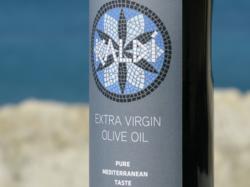 As our relationships with specialty food stores expand, so too will our product line.
Lorton, VA (PRWEB) September 26, 2012
Kaldes Bros Trading Co is proud to announce that its specialty Greek food brand, Kaldi - Pure Mediterranean Taste, is celebrating its two year anniversary. "We couldn't be happier with the reception that our Greek products have received across the country," said co-owner Greg Kaldes. His brother, Peter Kaldes, also a co-owner added, "Greek food is hot right now. From Greek yogurt to fine Greek dining, America is being re-introduced to good Greek food. We're proud to be part of the gourmet Greek food movement." To celebrate, the brothers are offering 40% off all their products with the use of coupon code "2ndbday" at checkout.
What started as a foodie dream is now a reality: Greg and Peter, who will be inheriting olives trees in Greece, have spent the last two years successfully sharing delicious their Greek food with clean ingredients. Kaldí products from Greece are available in over 35 high-quality specialty food retailers and online at kalditastes.com and igourmet.com. "As our relationships with specialty food stores expand, so too will our product line," says co-owner and patriarch of the Kaldes family, John Kaldes. In the works for Kaldi are plans for new products, such as rare Greek olives, spreads and marmalades. They will also continue to feature these fine Greek products on tv, radio, as well as at national trade shows.
In August 2009, brothers Peter and Greg Kaldes started Kaldí – Pure Mediterranean Taste to offer simple yet sophisticated Greek food that they grew up eating. With Greek olive oils made from rare olives, and all-natural tomato sauces based on Greek recipes that combine the freshest island vegetables with aromatic herbs and spices, Kaldí brings you the pure Mediterranean tastes of Greece.