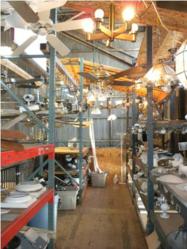 I was really impressed with how neatly they had all the material sorted and organized on site
San Francisco, CA (Vocus/PRWEB) March 18, 2011
Construction has begun on a Beausoleil Architects designed residential remodel in Los Altos, California. The project features sustainable architectural design in many aspects of the construction, including an ecological deconstruction process which is friendly to the environment and the wallet.
Most remodeling projects include demolition and removal of materials, such as old cabinets, sinks, flooring, and wood framing; items that could be recycled but which end up in landfills. Deconstruction, on the other hand, involves the literal reversal of the construction process by carefully pulling the house into its component parts: fixtures, lumber, masonry, etc., for direct reuse. It is not only ecological, but economical.
"A few years ago, we would have simply demolished the home down to its' foundations and over 35 tons of material would have been added to the landfill," said Christine Boles of Beausoleil Architects in San Francisco. "The owner opted to look into deconstruction as an alternative and found that it made sense from both an environmental and a financial perspective."
The existing house was built in 1953 and was due for some major upgrades. The plumbing, electrical and heating systems all needed to be replaced. The single-pane windows and inadequate insulation in the walls and roof meant high energy bills. And the home was cut up into a lot of small rooms that did not suit the needs of the family.
The San Francisco green architects, Beausoleil Architects, worked with the General Contractor, Gerry Jensen of Millennium Enterprises, to obtain quotes for both options: demolition and deconstruction. The deconstruction process takes longer because materials need to be carefully removed, sorted and documented. However, the beauty of deconstruction is that instead of paying to have unwanted materials removed with demolition, the owner obtains a tax credit for donating them for charitable purposes.
For this project, the cost for demolition was bid at $12,000, the cost of deconstruction at $17,000 with the additional cost of appraisal at $3,000. The cost of this appraisal is borne by the owner upfront, but the fee is also tax deductible. The appraised value of the goods donated ended up at $83,678. Assuming a tax bracket of 30%, this will leave the owner with a donation credit of almost $28,000. According to John Morrow of the ReUse People in Oakland, the entire amount can be carried over for up to four years, which in most cases ensures a full deduction. In sum, the owner should realize over $11,000 by choosing deconstruction.
The deconstruction process is straightforward; the first step involving a preliminary inventory and dollar value provided by an independent appraiser. Once the contract is signed, the deconstruction contractor, Marcan Enterprise in this case, removes all the cabinetry, appliances, interior doors, plumbing and lighting fixtures.
"I was really impressed with how neatly they had all the material sorted and organized on site," said Boles.
The contractor then had to come in and do abatement of hazardous materials that were found in old tile and sheetrock. Once the potentially hazardous materials were removed, it took approximately one and a half weeks for Marcan Enterprise to take apart the home, brick by brick, stud by stud. Over 5800 linear feet of wood framing alone was salvaged.
The only materials not salvaged were old asphalt roofing shingles, lumber under 6 feet in length (recycled instead), a small amount old rigid insulation, and single pane aluminum windows (no longer allowed for energy reasons). Single pane wood casement and double hung windows were also salvaged.
The newly-donated materials are available in Oakland at the ReUse People's retail outlet at 9235 San Leandro Boulevard, where the public is welcome to purchase the materials at incredibly discounted prices. Visit their website at http://www.reusepeople.org for additional operations and retail locations in southern California, Denver, Kansas City, Sacramento, and New Britain, Connecticut.
According to John Morrow of the ReUse People, typical customers purchasing donated construction material include people who cannot afford to buy new materials, people with income properties, environmentally conscious individuals looking to reduce their carbon footprint, and people seeking authentic period pieces for their remodels. Additionally, artists and furniture makers' purchase of old lumber account for 25% of the ReUse People's sales.
Beausoleil Architects in San Francisco encourages individuals to consider deconstruction for their remodeling project. It is suitable for any scale project, from a small kitchen or bathroom remodel, to a large addition or tear-down.
"It is the right thing to do, both for the planet and for your pocketbook," said Boles.
For more information about deconstruction or any other Beausoleil Architects' services, call them at (415) 335-4379 or visit their website at http://www.beausoleil-architects.com.
About Beausoleil Architects
Beausoleil Architects is a San Francisco green architect that specializes in residential green building, and sustainable architecture in San Francisco, as well as historic design. In addition to practicing sustainable architecture in the San Francisco Bay Area and the United States, Beausoleil Architects has completed projects as far away as China, Italy, and Australia. They are a San Francisco Certified Green Business.
# # #