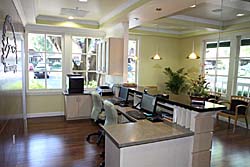 Any time someone goes out on a limb with a significant investment toward their livelihood, you have to give them praise and credit for having faith in themselves to help make their dream happen
Fremont, CA (Vocus/PRWEB) July 14, 2011
Shultz and Associates a Bay Area green architecture firm has designed the new 4 Paws Veterinary Clinic in Dublin. The clinic is currently under construction and is scheduled to be completed this summer. Clinic owner Chris Tripi, DVM, looks forward to starting a veterinary clinic in the Dublin area and he knew that Shultz and Associates was the right architectural firm for this project.
"Any time someone goes out on a limb with a significant investment toward their livelihood, you have to give them praise and credit for having faith in themselves to help make their dream happen. Chris and his wife are a young couple with a passion for caring for four-legged companions. They know it's important and their energy for this project is so impressive, they are already a success before even making their first dollar," said Karl Shultz of Shultz and Associates.
The 4 Paws Veterinary Clinic is being constructed with a custom design created by Shultz & Associates under the direction of Chris, focusing on canines and felines. The unique design will allow for easier treatment and advice for pets and their owners. To add character to the office, a coral reef tank will be placed in the waiting area.
4 Paws Veterinary Clinic was designed by Schultz and Associates and is being built by Barber Construction. Owner Chris and his wife are both veterinarians and will soon have a well-designed and solidly constructed clinic to better serve their clients and their pets.
For more information, call 510-796-7801 or visit their office in the Bay Area.
About Shultz & Associates
Shultz & Associates is a commercial architectural firm in the Bay Area. With several years of experience, Shultz & Associates serves the East Bay and Bay Areas of San Francisco and provides their clients with green architecture.
###