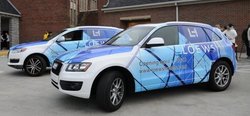 We seek every reasonable opportunity to incorporate green standards and practices into all aspects of our business
Atlanta, GA (PRWEB) June 24, 2010
The all-new Loews Atlanta Hotel in Midtown opened in the spring of 2010. The hotel adheres to the Loews Hotels Green Policy to be "committed to being environmentally responsible".
"We seek every reasonable opportunity to incorporate green standards and practices into all aspects of our business," states the corporate policy. With the goal of doing good and doing well at the same time, Loews does several things to reduce their overall footprint.
Standard practices for the hotel group include food donations, reduced linen and towel washing policy (according to guest preference), recycling, water-conserving and energy-saving technologies such as low-flow shower heads and compact fluorescent light bulbs. The hotel restaurants serve and feature local, seasonal fruits and vegetables.
One of Loews Atlanta's ways to "do good and do well" is to use clean diesel TDI vehicles for their customer shuttles. Luxurious Audi Q7s provide the level of luxury and comfort a Loews hotel guest would expect, and with 20 mpg in town and 23 mpg highway burning low-emission clean diesel technology, the Q7 delivers the low environmental impact that the hotel desires.
As the premier Audi dealer in the city of Atlanta, Jim Ellis Audi Atlanta is the perfect partner for the luxury hotel in this endeavor. Because of their clean diesel TDI vehicles, Jim Ellis Audi Atlanta frequently partners with other businesses who show environmental responsibility, including the LEED-certified Philips Arena and the Ovie Mughelli Foundation, which promotes green living.
Of course, Jim Ellis Audi Atlanta's commitment to sustainability extends beyond the TDI cars and SUVs for sale on the lot. The dealership uses energy efficient lighting, in-office waste reduction and recycling programs, as well as green cleaning supplies and energy-saving practices in the store.
"It's not enough to simply say that we care about the environment." Says Tracie Dean, General Manager of Jim Ellis Audi Atlanta, "we also have to do something proactive to help conserve."
Loews Atlanta is a four-diamond luxury hotel featuring 414 in the heart of midtown. With a rich history spanning over six decades, Loews continues to offer ultimate travel experiences in 16 cities across the US and Canada. For more information, please visit the Loews Hotels website.
Jim Ellis Audi Atlanta is proud to be the only Magna Audi Dealership in Georgia! Jim Ellis Audi Atlanta offers outstanding service and the best deals on new and certified pre-owned Audi cars and SUVs, from the sleek R8 to the clean-diesel luxury SUV the Q7 TDI. To learn more about this Atlanta Audi dealership please visit the Jim Ellis Audi Atlanta website.
###