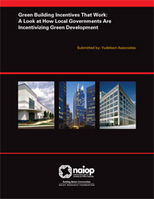 Green Building Incentives that Work: A Look at How Local Governments are Incentivizing Green Development
Tucson, AZ (PRWEB) January 10, 2008
Jerry Yudelson, principal at Yudelson Associates, a leading green building consulting firm, announced the release of his new study, "Green Building Incentives That Work: A Look at How Local Governments Are Incentivizing Green Development."
"We found that nearly a hundred local and state governments are offering green building incentives to private developers," said Yudelson. "This study brings together all of those incentives in one place and shows local governments who want to offer green building incentive programs examples of leaders."
"We are in momentous times," said Yudelson, "when everyone wants to enact programs that will help their cities and states to reduce their 'carbon footprint.' Many studies have shown that green buildings offer the most cost-effective way to carry out these public policy goals. The remaining question is how these programs should be structured. My study points the way for government action that works together with the private sector, to achieve mutually beneficial goals."
As a leading green building consultant, Yudelson intends the study to be a "manual" for developers who want to work with local governments on green building incentives. "Most developers prefer the carrot to the stick," said Yudelson, "and I wanted to show them how to 'sell' green building programs to local governments." The study reveals that the most popular incentives local and state government can offer to real estate developers are faster permit processing and limited property tax abatements, followed by "density bonuses" and faster development plan review.
Prepared for the NAIOP Research Foundation, this study uncovered the scope of green building incentives being offered across state and local governments in the U.S. as of August 2007 and assesses what optimal mix of economic and procedural incentives may further green building goals in other municipalities, while assisting developers who want to "build green." The report also contains an extensive appendix of local government programs, policies and incentives, organized by state and city, as well as by type of program.
"Green Building Incentives that Work: A Look at How Local Governments are Incentivizing Green Development," is available by free download from the National Association of Industrial and Office Properties web site, at: http://www.naiop.org/foundation/greenincentives.pdf.
About Jerry Yudelson
Jerry Yudelson, is a leading green building consultant and national authority on green buildings and corporate sustainability, with six major green building books and more than three dozen green building articles to his credit during the past three years. He is also the senior editor of the web site, http://www.igreenbuild.com , where he writes a monthly column. Mr. Yudelson is a former Board Member of the U.S. Green Building Council, a national nonprofit with some 12,500 corporate, agency and institutional members. He has trained more than 3,500 people in the LEED green building assessment framework since 2001, and he served on two national committees developing the next generation of green building standards. He was named a "National Peer Professional" in 2006 by the U.S. General Services Administration.
About the Green Building Consulting firm, Yudelson Associates
Yudelson Associates, Tucson, AZ, http://www.greenbuildconsult.com , is a green building consulting company dedicated to "growing the business of green building" and facilitating sustainability initiatives in higher education and the corporate world. Yudelson Associates offers project-specific green building consulting services, green building marketing consulting, workshops, keynote speeches, and sustainability planning for corporate and institutional clients.
###