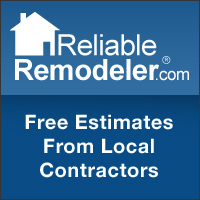 People are thinking more and more about 'going green' in many different parts of their life, this includes when they are thinking about home remodeling projects. There is a definite rise in interest that has been seen over the years as homeowners become more and more aware of what options are available for green building
Portland, Ore. (PRWEB) August 1, 2007
ReliableRemodeler.com, a leading home remodeling resource for homeowners providing a trusted connection between homeowners and local contractors, is announcing the results of the first of a series of surveys on the subject of green building. The results of this first survey show that, across the board, homeowners are becoming increasingly concerned about environmentally friendly green building practices.
Sixty percent of homeowners surveyed stated that green building practices were more important to them now than they were five years ago. Recent media attention on environmental issues, such as global warming, seems to have translated into increased concern by homeowners about how they are impacting the environment. The full green building survey results can be found on ReliableRemodeler.com.
"People are thinking more and more about 'going green' in many different parts of their life, this includes when they are thinking about home remodeling projects. There is a definite rise in interest that has been seen over the years as homeowners become more and more aware of what options are available for green building," said Eric Doebele, President and co-founder of ReliableRemodeler.com.
While many label green building as being the newest remodeling fad, homeowners' answers show the opposite. Sixty-six percent of homeowners surveyed believe that green building isn't just a passing trend. While women seemed more convinced of this fact, with 73 percent stating they believed it to be more than just a trend, 53 percent of men still agreed.
On both sides of the Mississippi green building was also seen as more than just a fad. Seventy-one percent of Westerners and 61 percent of Easterners believed that green building would continue to stay as a remodeling technique. Green building will likely continue to increase in the coming years as a new alternative to traditional home remodeling.
About ReliableRemodeler.com:
ReliableRemodeler.com is a leading nation wide home improvement contractor referral service working to bring together homeowners and contractors. To date, the company has matched over 200,000 homeowners with home improvement projects to quality, local contractors. Besides homeowners, the company targets over 1.2 million home improvement and remodeling contractors in the United States, providing them access to quality home improvement leads using proprietary matching technologies.
Both homeowners looking to start a home improvement project, or contractors who want to start receiving qualified leads, can visit our website, ReliableRemodeler.com.
For information about this press release or about ReliableRemodeler.com please contact: Paige Thomas or media @ reliableremodeler.com.
# # #