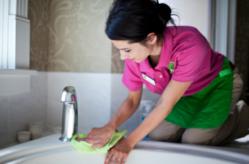 We have an extremely active Facebook community, and we try to reward our fans with promotions and giveaways
St. Louis, MO (PRWEB) February 03, 2012
Better Life Maids is offering a green house cleaning for a year sweepstakes. The lucky winner will receive an entire year of monthly cleaning visits from the green house cleaning franchise. The contest is being hosted on the popular social media site Facebook.
Social media has become an integral part of the marketing campaign of Better Life Maids. "We have an extremely active Facebook community, and we try to reward our fans with special promotions and giveaways," said Angela Ricketts, Vice President of Client Experience for Better Life Maids. Some examples of promotions that they have used in the past include free house cleanings, Better Life natural household cleaning product starter kits, last minute cleanings at deep discounts, and more.
Better Life Maids offers green house cleaning to its clients in St. Louis, MO and is expanding into new markets through a national franchise system. Better Life Maids uses the entire line of Better Life natural household cleaning products that are carried coast to coast in Whole Foods Markets.
"Now it's time for a really big giveaway for our Facebook fans," said Ricketts. Fans can enter once per day, and get bonus entries for sharing the sweepstakes with their friends on Facebook.
"Facebook is really a powerful marketing tool for us. It is the referral in the digital age. We get great reviews and customer involvement. The flip side for any business that is thinking about using Facebook to market themselves, is that they have to be really good at what they do, and deliver on their promises, as being open and transparent is a double edged sword. We believe we offer a great service and product line and want that client engagement," stated Ricketts.
The current sweepstakes is for an entire year of green house cleaning and maid services from Better Life Maids. The winner will receive an initial deep clean up to a $250 value, and 11 additional monthly cleaning visits each up to a $120 value. Entries can be made once per day and additional entries are given for sharing the sweepstakes with friends on Facebook. To enter the contest visit http://www.facebook.com/betterlifemaids and click on the sweepstakes tab. All of the official rules can be found their as well.
About Better Life Maids
Better Life Maids is a green house cleaning service founded in St. Louis, MO. Better Life Maids is seeking to grow in select markets through a franchise development program, as well at the addition of new company owned units. Better Life Maids has partnered with Better Life a green household cleaning products company to help create the first national green product and service brand. For more information visit http://www.betterlifemaids.com or http://www.cleanhappens.com.
###