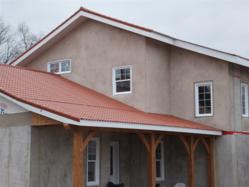 The use of NatureBuilt's exterior wall panels avoided a six month delay to the project saving time and money.
Welland, ON (PRWEB) September 18, 2012
The wolf may have blown down the first little pig's straw home, but the fourth pig has learned how to build a wolf-proof home from straw that is very fast to put up, keeps utility bills low and is made of all-natural materials.
NatureBuilt Wall Systems Inc. manufactured the prefabricated strawbale wall panels used to build the Penner Residence, a stunning timber frame home located on the beautiful Niagara Escarpment in Beamsville, ON. The homeowner and builder had originally planned on building using the traditional method of straw bale construction by stacking bales and plastering on site. However, it became evident that the construction was behind schedule and they needed to find a way to get the building closed in before the cold set in. By using NatureBuilt's panelized pre-fabricated BioSIP wall system the building envelope was up and ready before cold weather set in. The use of the panels avoided a six month delay to the project saving time and money.
The Ontario Straw Bale Building Coalition hosts a one day open house of strawbale buildings throughout Ontario. This year there are 37 buildings opening their doors to the public. The Penner Residence is the first one on the tour to use NatureBuilt's prefabricated BioSIP system. All the details, locations and maps can be found on the OSBBC website.
Sunday September 30 2012.
Start: 10:00 A.M.
End: 4:00 P.M.
Address: 3929 Zimmerman Road Beamsville ON L0R 1B2
NatureBuilt Wall Systems Inc. manufacturers an exterior wall panel system that is environmentally friendly, airtight, super-insulated, made of all natural materials and goes up fast. Founded in 2009, the company's BioSIP manufacturing facility is located in Welland, Ont.