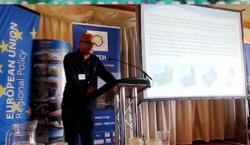 Various opportunities that green wave energy can provide to the ports worldwide.
(PRWEB) July 16, 2012
During the workshop, Mr. David Leb discussed the opportunities wave energy can provide to the ports worldwide. In his speech, Mr. Leb mentioned that Eco Wave Power guarantees to supply ports with sufficient amount of clean electricity, for their everyday needs.
Eco Wave Power will help ports that implement its technology to reduce the carbon footprint greatly. With EWP's help ports would be able to sustain clean environment, fight global warming, and will help to make the transition to clean energy future in general smooth and fast.
Moreover, implementation of EWP's technology will promote eco-tourism to the ports, as it will portray those ports as pioneers in the green wave energy field. Eco-tourism focuses on volunteering, personal growth and environmental sustainability. One of the goals of eco-tourism is to offer tourists an insight into the impact of human beings on the environment, and to foster a greater appreciation of human natural habitats. Therefore, EWP's wave energy generating devices will be a perfect solution for the fulfillment of such goals and can greatly help with the promotion of Ecotourism in many regions.
Along with the benefits of cost-efficient and zero-emission ocean wave electricity, Eco Wave Power's floaters will prevent a phenomena known as "coastal and breakwater erosion". When oncoming waves hit the breakwater, their erosive power is concentrated on Eco Wave Power's floaters that are located before the shore line.
Once EWP's devices are installed on any ocean structures, the erosive ocean effect will be minimized, as the uniquely shaped floaters will serve as shock absorbers, and shall absorb all destructive energy, thereby extending the breakwater's life span.
Mr. Leb's speech has generated a significant amount of interest among the attending ports' representatives, which resulted different European ports and Marinas to contact Eco Wave Power and provide many proposals of cooperation. Eco Wave Power currently examines various places, and continues negotiations about the first location where EWP will install its commercial-scale power plant.