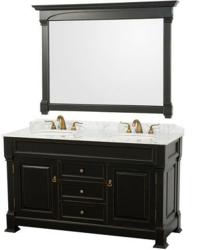 HomeThangs.com introduced a few types of eco-friendly bathroom vanities that are good for the earth, good for the health, and can even help contribute to the home's green home or LEED rating.
(PRWEB) December 05, 2012
HomeThangs.com – the Home Improvement Super Store has made their goal to deliver the right product to the consumer, with that in mind, shopping and home design tips, as well as special product selections are being introduced.
Eco-friendliness is predicted to be the top trending theme in home design for 2013, with everything from water saving shower heads to EnergyStar appliances at the top of every 2013 to-do list. For those who are not super familiar with the green home movement, or even the whole sustainability thing in general, it can be difficult to know where to start. HomeThangs.com introduced a few types of eco-friendly bathroom vanities that are good for the earth, good for the health, and can even help contribute to the home's green home or LEED rating.
1. All Natural Bathroom Vanities from Wyndham Collection
If looking for an eco friendly bathroom vanity, shopping the Wyndham Collection is a great place to start. Their bathroom vanities come in sleek, transitional and contemporary styles, with some more traditonal pieces like this Andover Vanity. All their eco friendly bathroom vanities are made of solid, sustainably harvested, zero-emissions Oak hardwood. This wood isn't treated with any harmful chemicals (as much of the wood used in some other bathroom vanities is), but it is specially engineered to prevent warping. All Wyndham Collection eco-friendly bathroom vanities also undergo a multi-stage finishing process. This ensures an extremely water resistant exterior that's as low as possible in volatile organic compounds (VOCs).
One of the biggest drawbacks of traditional solid wood bathroom vanities is that they're often made from wood that's treated with formaldehyde or other VOCs and chemicals. Not only is this bad for the environment, it's also bad for the health, as these chemicals release into the air in a home over time. Especially if the bathroom doesn't have any windows, harmful airborne toxins can build up over time and have a negative impact on the indoor air quality and the family's health. But eco friendly vanities from Wyhndham Collection, like the Daytona Vanity for example, are made using zero-emissions, untreated wood, natural, no-VOC adhesives, and the healthiest possible finishing materials without sacrificing quality and durability. They even famously build fish tanks out of the same materials as their vanities to prove how natural, safe, and water tight their eco friendly bathroom vanities are.
2. Rubberwood Bathroom Vanities from Virtu USA
For those who like the look of natural wood, another good option are many of the eco friendly bathroom vanities produced by Virtu USA. Their vanities, like the Enya Vanity are built using 100% solid rubberwood, a fast growing, sustainable material with a beautiful, natural wood grain. Rubberwood is also very dense, and naturally resistant to mold, mildew, and fungus, which helps the wood hold up much better in a bathroom environment than other materials.
Rubberwood is an ideal material choice for an eco friendly bathroom vanity for a few reasons. Most significantly, the rubberwood tree is used in the production and harvesting of natural latex rubber, and is widely grown for this purpose. But the trees only have a productive lifespan of about 30 years – that is, after 30 years, they no longer produce latex, and are often subsequently chopped down and used for firewood. Virtu harvests rubberwood at the end of it's useful cycle, saving it from being burned and turning it into beautiful, eco friendly bathroom vanities like the Bruno Vanity for instance.
3. Innovative Strawboard Bathroom Vanities From Ronbow
Strawboard is perhaps one of the most innovative materials used in eco friendly bathroom vanities. A type of particleboard, strawboard is both more eco friendly and better for health than traditional MDF or plywood. While wood-based particleboards are made of wood that's compressed into boards held together with chemical adhesives, Ronbow's strawboard vanities, like the Lassen Vanity for example, are made of agricultural byproducts – namely, the straw left over from the harvesting of barley, wheat, and rice. These straws produce their own natural resins at high temperatures, and bind together naturally when exposed to heat and pressure.
This has a unique dual benefit. First, because the material strawboard is made of is basically considered garbage and is typically burned as refuse after harvesting, strawboard is a material that actually has a negative carbon footprint. By buying a strawboard bathroom vanity, like the Arden Vanity for instance, you're actually preventing usable natural straw from being burned. Secondly, because the resins that bind each board together are 100% natural, strawboard bathroom vanities contain no VOCs. Swapping from almost any other material will immediately improve the indoor air quality.
There are a lot of options out there when it comes to eco friendly bathroom vanities, and a lot of information that can sometimes be confusing. But it's worth taking the time to look into all options before buying and think about how it's made and what it's made of. Those who still aren't sold on eco friendly bathroom vanities for the environment, health, or even the "green home" government rebates, need to keep in mind that some of these vanities also just happen to be the hottest trending looks for years to come, and are a great way to keep a home on trend.
HomeThangs.com is not only a home improvement superstore, it also provides expert design tips and a comprehensive home improvement shopping guide, taking the ideas from professional interior designers, and offering tips to the consumers on how to pick the products to best suit their needs.