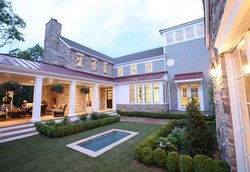 We strive to bring our homeowners the best in every community we build. Working with ZeroEnergy Design and Tohn Environmental, we know that Five Lanterns offers an exceptional lifestyle together with great energy performance and healthy indoor air quality
Boston, MA (PRWEB) September 10, 2008
ZeroEnergy Design, an architectural design and mechanical engineering firm, in collaboration with Tohn Environmental Strategies, consultants in environmental health and indoor air quality, are working on the latest homes at The Pinehills, a master planned community in Plymouth, MA. Together they are helping The Green Company reach new heights with their Five Lanterns residences, a neighborhood of luxury homes, including the Boston Magazine Design Home 2008.
"We strive to bring our homeowners the best in every community we build. Working with ZeroEnergy Design and Tohn Environmental, we know that Five Lanterns offers an exceptional lifestyle together with great energy performance and healthy indoor air quality", said Rick Maranhas, Executive Vice President of Construction, The Green Company.
The enclave of luxury homes with spectacular golf course views feature 3,100 to 4,400 square feet of indoor space, plus decks, covered loggias, summer kitchens, outdoor living rooms and outdoor fireplaces. The residences were designed to inspire indoor/outdoor living with expanses of glass to capture the lush surroundings, and spacious private courtyards for entertaining. They will also showcase the latest materials and systems to address energy conservation and efficiency, as well as bring inside plenty of clean, fresh air.
To increase the energy performance, ZeroEnergy Design identified the spectrum of feasible improvements, made precise recommendations, and designed the mechanical systems which supply heating, cooling, and ventilation. To improve the indoor air quality, Tohn Environmental identified construction practices and building materials to minimize asthma triggers, avoid moisture problems, supply clean fresh air, reduce allergens and provide low-toxicity materials.
"The residences at Five Lanterns will not only be a an exceptional place to live, but also have far lower utility bills than a similar home built to code, and a replenished supply of clean, fresh air. These attributes make a positive impact on homeowners' lifestyle, budget, and indoor air quality", said Maranhas.
Boston magazine has chosen Five Lanterns to be the site for Design Home 2008. Open for tours from September 12 through October 26, Design Home 2008 will showcase the latest trends in home and interior design while also raising funds for the Greater Boston Food Bank.
About The Green Company:
The Green Company is a nationally recognized home builder - named America's Best Builder in 1992, 2000 and again in 2007 by the National Association of Home Builders and Builder magazine. With a 54-year history of creating environments for living, The Green Company continues the trend with their latest neighborhood known as Five Lanterns.
About ZeroEnergy Design:
ZeroEnergy Design is a professional services firm providing Energy Design and Custom Home Design services for residential new construction. The unique collaboration between in-house architectural designers, mechanical engineers, and financial analysts drives a competitive advantage and enables the firm to deliver fully integrated design and engineering for high performance homes.
About Tohn Environmental Strategies:
Established in 1992, Tohn Environmental Strategies is an environmental and health policy consulting firm with specialized expertise in green and healthy housing. The firm is led by founder and Principal Ellen Tohn, a nationally recognized expert in environmental health, green and healthy housing, and lead poisoning prevention.
Contacts:
The Green Company
(At Pinehills)
1.508.209.2400
Adam Prince
ZeroEnergy Design
1.866.412.5332
Ellen Tohn
Tohn Environmental Strategies
1.508.358.7770
###