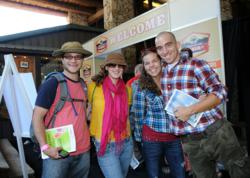 "The Mother Earth News Fair aims to show people that living sustainably can be fun and save money. What better way to get people excited than to bring these concepts to life?
Seven Springs, Pa. (PRWEB) September 12, 2011
Many people think of swimming pools, massages and golf as resort staples. The Mother Earth News Fair at Seven Springs Mountain Resort brings llamas, DIY cars, weed walks and more to the mix.
Attendees can participate in these novel off-stage activities as well as 120-plus workshops taking place Sept. 24-25 throughout the resort:
Hike and Pack with Llamas: Llamas make perfect hiking companions for all ages. Farmer and veterinarian Anne Hallowell will show how to pack llamas then lead a hike with the animals.
Heirloom Tomato Tasting: Southern Exposure Seed Exchange will host an heirloom vegetable and fruit tasting for attendees to try dozens of heirloom tomato and pepper varieties, plus melons, apples, roasted garlic and fresh-grown cornbread. Attendees can also bring their own varieties to share.
High-Mileage Vehicle Show: Attendees can visit with designers, builders and drivers of five DIY, high-mileage cars from across the country including Mother Earth News' 100-mpg sports car.
Natural Cleaning: All-natural household cleaners keep toxic chemicals out of the home, save money and reduce packaging waste. The Natural Home & Garden and Bon Ami staff will share some of their favorite recipes made with grocery-store ingredients.
Build a Straw Bale Wall: Designer Sigi Koko will show attendees how to build insulating straw bale walls that also look good. Saturday's class will cover stacking straw bales and coating them with nontoxic clay plaster, while Sunday attendees can learn to make and apply finish plasters and natural paints.
Foraging Edibles Walk: Local herbalists Faith Starr and David Fish will teach attendees to identify and harvest wild plants in their natural environment. This guided weed walk will tap into the abundance of healthful, free food, including tips on incorporating wild foods into everyday meals.
"The Mother Earth News Fair aims to show people that living sustainably can be fun and save money," says Event Director Andrew Perkins. "What better way to get people excited than to bring these concepts to life?"
In addition, dozens of hands-on workshops will cover organic gardening, real food, renewable energy, small-scale livestock, green building and remodeling, DIY projects, natural health, green transportation, and related topics. Mother Earth News staff will lead the sessions, along with green lifestyle and rural living experts.
The Fair also will host a seed swap, children's activities, a green shopping pavilion, vendor and livestock demonstrations, musical acts, and local and organic food options.
Adult tickets are $25 for a weekend pass or $15 for a one-day pass in advance, or $30 and $20, respectively, at the gate. Children 17 and under get in free. To purchase advance tickets, go to MotherEarthNewsFair.com or call toll-free 800-234-3368.
The Fair is sponsored by Ball Jar, Bon Ami, Central Boiler, Envirolet, Giant Eagle, King Arthur Flour, Organic Valley, Purina, Red Star Yeast and Seventh Generation.
About Mother Earth News
Mother Earth News is the Original Guide to Living Wisely. Topics include organic gardening, do-it-yourself projects, cutting energy costs, using renewable energy, green home building and rural living.
About Ogden Publications Inc.
Ogden Publications Inc. is the leading information resource serving the sustainable living, rural lifestyle, farm memorabilia and classic motorcycle communities. Key brands include Mother Earth News, Natural Home & Garden, Utne Reader, Capper's and Grit. Ogden Publications also produces environmentally friendly housewares through Natural Home Products LLC, and provides insurance and financial services through its Capper's Insurance Service division.
# # #