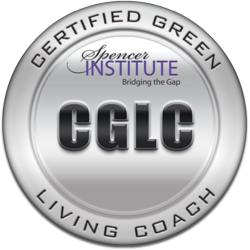 This is the blueprint for creating your green and environmentally friendly career
Rancho Santa Margarita, CA (PRWEB) April 08, 2013
Just in time for spring and Earth Day, the Spencer Institute offers an online Green Living Coach certification which focuses on the fundamentals of green living at http://spencerinstitute.com/green-living-coach-certification/.
This Green Living Coach program was designed as the perfect complement to a career as a life coach, nurse, holistic health practitioner, public health educator and environmental worker. The certification focuses on going green affordably, creating change and becoming a leader in the field while helping clients create sustainable changes. Participants will learn how to walk into any room, office or building and immediately improve the health and quality of the space, and reduce energy consumption and costs.
"If you've always wanted to go green but think that the only way to do it is to put solar panels on your roof or buy a hybrid car and you can't afford either, this course is for you. You will learn how to bust through the myths that going green is hard or expensive to do," said Dr. John Spencer Ellis, CEO and president of The Spencer Institute and creator of the Green Living certification. "Healthy living today is truly about every product you choose to bring into your home or business. You can make Earth Day every day."
Since 42 percent of Americans are willing to spend more for products branded as organic, environmentally friendly or fair trade and 73 percent considered it important that companies have good environmental records, according to a Boston Consulting Group study, this green living certification also makes great business sense. It can help businesses build a marketing edge over competitors, improve employee morale and the health of the workplace, and help strengthen the bottom line through improved operating efficiencies while creating greater public awareness.
About the Spencer Institute
Founded by Dr. John Spencer Ellis, an international leader in wellness coaching, personal development and fitness, The Spencer Institute offers life coaching, holistic education, nutrition coaching, sports psychology and wellness training certification programs delivered in online and distance learning formats that are designed to provide a step-by-step blueprint to success. The programs were developed to help people find the career of their dreams while helping others live better lives. For more information about the Spencer Institute or the Green Living Coach Certification, please visit http://spencerinstitute.com/green-living-coach-certification/