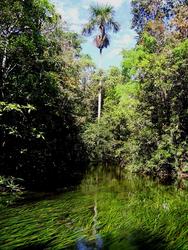 More and more, groups want to be 'green'
Bethesda, MD (PRWEB) May 22, 2008
Marriott International, Inc. (NYSE: MAR) has launched an innovative opportunity for its group customers to address climate change and improve the environment. A first in the lodging industry, Marriott will contribute funds on behalf of its customers to protect the critically endangered Brazilian Amazonas rainforest for meetings booked between July 1, 2008 and December 31, 2009.
The hotel giant is also unveiling a menu of eco-friendly green meeting products and services that will enable groups of all sizes to save water and energy, reduce waste and recycle during their stays. Some of the ways Marriott will be making meetings green include offering recycle bins in the meeting room, using green products such as pens and notepads made from recycled material, decorating with organic flowers, linen-less tables, name tag reuse and donating leftover food. The average three-day meeting attended by 1,000 people produces more than 12 tons of trash, uses 200,000 kilowatts of power and consumes 100,000 gallons of water.
"More and more, groups want to be 'green'," said David Marriott, senior vice president, global sales. "By joining us in our effort to protect endangered rainforest and host green meetings, they will be helping to reduce greenhouse gas emissions that impact our climate. Each year, rainforest destruction causes more carbon emissions than all of the world's cars, trains, SUVs and trucks combined."
For qualified green meetings/stays booked during select dates, participating hotels in North America will make a cash contribution equal to five percent of the total cost of the group's guest rooms. Donations will be made in the name of the group as part of Marriott's ongoing rainforest protection plan. This program will be available for meetings of 10 sleeping rooms or more booked directly with the hotel's sales associate - brands include JW Marriott Hotels and Resorts, Marriott Hotels and Resorts and Renaissance Hotels and Resorts. All meetings must take place between July 1, 2008 and December 31, 2011.
Just last month, Marriott International signed a historic agreement with the Brazilian State of Amazonas to commit $2 million to fund an environmental management plan administered by the Amazonas Sustainable Foundation. Under the agreement, the Foundation with the State of Amazonas, will monitor and enforce the protection of the Juma Sustainable Reserve, an area rich in bio diversity. The Amazonas project will support employment, education and healthcare for the reserve's approximately 500 residents. The Foundation is seeking certification of the conservation project by an independent accredited environmental auditing firm under the internationally recognized Climate, Community and Biodiversity (CCB) standards. Watch it on http://www.youtube.com/watch?v=uQ058zrZyTo
Working with Conservation International, a global environmental organization, Marriott has developed a five-point "green" strategy that includes: (1) carbon offsets through the protection of rainforest; (2) further reducing fuel and water consumption by 25 percent per available room over the next 10 years, and installing solar power at up to 40 hotels by 2017; (3) engaging Marriott's top 40 vendors to supply price-neutral green products across its $10 billion supply chain; (4) empowering development partners to site, design and construct new hotels in line with the U.S. Green Building Council's LEED (Leadership in Energy and Environmental Design) standards by the end of 2009; and (5) educating and inspiring employees and guests to support the environment through their everyday actions at home, while at work and on travel.
Marriott has been actively involved in energy conservation for more than 20 years, and over the last decade, replaced 450,000 light bulbs with fluorescent lighting, introduced linen reuse programs, and installed 400,000 low-flow showerheads and toilets at its hotels worldwide. These industry-leading efforts have been recognized by the EPA, which awarded Marriott with its 2008 Sustained Excellence award and placed the ENERGY STAR® label on more than 250 of its hotels (the most of any hotel company). For more details, visit http://www.marriott.com/environment.
MARRIOTT INTERNATIONAL, Inc. (NYSE:MAR) is a leading lodging company with more than 3,000 lodging properties in the United States and 66 other countries and territories. Marriott International operates and franchises hotels under the Marriott, JW Marriott, The Ritz-Carlton, Renaissance, Residence Inn, Courtyard, TownePlace Suites, Fairfield Inn, SpringHill Suites and Bulgari brand names; develops and operates vacation ownership resorts under the Marriott Vacation Club, Horizons by Marriott Vacation Club, The Ritz-Carlton Club and Grand Residences by Marriott brands; operates Marriott Executive Apartments; provides furnished corporate housing through its Marriott ExecuStay division; and operates conference centers. The company is headquartered in Bethesda, Md., and had approximately 151,000 employees at 2007 year-end. It is ranked as the lodging industry's most admired company and one of the best companies to work for by FORTUNE®, and has been recognized by the U.S. Environmental Protection Agency (EPA) with the 2007 Sustained Excellence Award and Partner of the Year since 2004. In fiscal year 2007, Marriott International reported sales from continuing operations of $13 billion. For more information or reservations, please visit our web site at http://www.marriott.com.
# # #