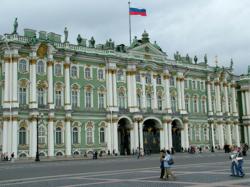 "We look forward to helping open up Russia by providing comfortable, safe and eco-friendly transport to visitors from around the world."
Sydney, Australia (PRWEB) January 31, 2012
For travelers, the diversity of the Land of the Tsars is all encompassing. From northern Asia to Eastern Europe, it includes Black Sea beach resorts and frosty Siberian steppe, snow-capped mountain ranges and low-lying lakes, and the many must-see historic sights of some of the world's most intriguing imperial cities.
Given the daunting size and scope of Russia, visitors often only see what's presented on packaged travel itineraries; however, plenty more awaits those who cross it at their own pace. And for earth-conscious travelers, Green Path Transfers – the global, environmentally and socially responsible transport service with a 100-percent carbon-offset policy – now offers safe, reliable and competitively priced ground transportation to key attractions and destinations both within Russia and beyond.
Having launched in March 2011, Green Path Transfers is already the world's largest global provider of eco-friendly intercity and airport transfers. Catering to business and leisure travelers alike, the company lists taxis, limousines and shuttles in nearly 300 destinations worldwide. For such a young and dynamic network, expanding into Russia was a natural and vital step.
"It's great to see Green Path Transfers accessing such a diverse, interesting region," says Adrian Cordiner, CEO of Green Path Transfers. "We look forward to helping open up Russia by providing comfortable, safe and eco-friendly transport to visitors from around the world."
For Green Path Transfers, going green means making a conscientious commitment to sustainable practices, green technology and putting travelers on the right road to a less toxic future. Focused on the growing eco-friendly sector of the ground transportation industry, the company goes a good green step further than any other Russian transfer company by neutralizing all of its carbon emissions with its 100-percent carbon-offset policy.
Whether one is traveling from the airport to the Hermitage Art Museum at the historic center of St. Petersburg; heading south to Sochi, host city of the 2014 Winter Olympics; or rounding out one's time in Vladivostok, the Pacific Ocean port close to the border with China, Green Path Transfers' focus on environmental responsibility means both corporate and leisure travelers can reduce their carbon footprints without increasing their costs.
"We're proud of the commitment that all of our local partners around the world have made toward a greener future," adds Cordiner. "We are continually looking at ways to offer better services, cheaper prices and more eco-friendly vehicles to our customers."
About Green Path Transfers
Green and friendly, Green Path Transfers is the global airport transfers and intercity ground transportation service from the WHL Group, the largest local-travel network in the world. In keeping with a vision to build a sustainable tourism industry, Green Path Transfers partners with the best, green, local airport transfers companies – those with a commitment to zero or very low carbon emissions – but also offsets 100% of the carbon emissions generated across all destinations. Green Path Transfers has also put in place a range of incentives and supports to move all airport transportation partners toward a greener future.
For more information visit http://www.greenpathtransfers.com or contact Adrian Cordiner, adrian(at)greenpathtransfers(dot)com, +61 2 9816 1774.
###