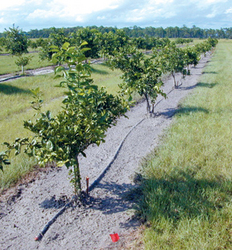 The most recent product we have developed controls 99.9% of all noxious weeds, including yellow nutsedge, without toxins
Raleigh, NC (PRWEB) March 27, 2009
Technical Designs Incorporated, the creator of EarthSkin, aGroChips Poultry Bedding, and Isolative Layer litter management is seeking investors to purchase licenses to sell and/or manufacture their products. The industrial design and green technology development company has developed over 3 million dollars worth of technology, and is excited to bring that technology to market.
The research and development company, located online at CatheyDesign.com, has used USDA-SBIR grant funding to develop a weed suppressant product, with other grants to produce their two additional products. All three products are environmentally friendly, but in addition to being green, they save farmers a considerable amount of money.
"The most recent product we have developed controls 99.9% of all noxious weeds, including yellow nutsedge, without toxins," says Cathey. "This can save farmers 7 to 11 thousand dollars per acre when they choose our products over alternatives like plastic mulch."
That product is EarthSkin, a biodegradable thin-film mulching system for weed suppression in commercial crop production. The conformal coating remediates the cost of plastic mulch, which can cost up to $11,000 dollars, as well as additional labor costs inherent in weeding by hand.
Other green technology products developed by Technical Designs, Inc. include aGroChips, an alternative poultry bedding that improves poultry performance and the litters' fertilizer value while reducing pollution and CO2. The estimated savings using the aGroChips bedding system is over $7 million dollars each year. Similarly, Isolative Layer, Technical Designs Inc.'s concept in litter management, is estimated to save $3.5 million for integrator growing 8 million turkeys.
"The mission of TDI is to develop sustainable product solutions while considering the environmental impact of the product or system from cradle to grave," says Timothy Cathey, President of Technical Designs Incorporated. "The objective is to develop restorative products from indigenous waste resources to solve regional problems, and the investment opportunities inherent in such a field are quite good."
For more information on Technical Designs, Inc.'s three products or the present investment opportunities, visit CatheyDesign.com.
About Technical Designs Incorporated and Novovita Products:
Technical Designs Incorporated and Novovita Products is a research and development consulting company that utilizes a rich network of professionals to achieve product development projects. TDI develops and sells green technology for business developers across three continents, and offers development from concept to commodity as well as supplying the talent required for organizations to complete their planned developments. For more information, visit CatheyDesign.com.
# # #