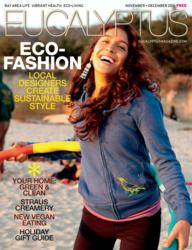 From all of us at Eucalyptus magazine, we wish you a happy and healthy holiday season.
Los Gatos, CA (PRWEB) November 30, 2011
The holiday season is in full swing, and Eucalyptus magazine, the only lifestyle magazine that focuses exclusively on health, wellness and green living in San Francisco Bay Area, is helping to make the season bright. The annual Eucalyptus Gift Guide is full of ideas for environmentally and socially responsible presents. Eucalyptus is doing a giveaway of some of the favorites from the Gift Guide on their YouTube channel. And the Green Tips section gives suggestions on going green for the holidays. The November/December issue of Eucalyptus is now online at http://www.eucalyptusmagazine.com/NovDec11 and available from over 350 Bay Area merchants.
"From all of us at Eucalyptus magazine, we wish you a happy and healthy holiday season," said Michaela Marek, publisher and founder of Eucalyptus.
The annual Eucalyptus Gift Guide offers a collection of gifts everyone can feel good about giving. Kids will love a huggable plush sea otter holding a sea star, and the proceeds benefit the Monterey Bay Aquarium. For stunning and unique jewelry gifts, Third Eye Pinecones creates pendants from cross-sections of conifer pinecones, inlaid with gems, crystals, shells, and fossils. Hanging a Mason Bee House, built from durable, renewable bamboo, will attract non-stinging Mason bees to the yard and help rebuild the declining bee population. On the eucalyptusmag YouTube channel, founder Michaela Marek shows off some of the items on the list, so visitors can see them in action.
"I love the annual gift guide; last year I took the recommendations and purchased several gifts for my friends. I am looking forward to it again," said reader Monika Cervena.
Lucky readers have a chance to win two of the favorite items from the Gift Guide by subscribing to the eucalyptusmag YouTube channel. The Pong iPhone case not only protects a phone when it's dropped, it also redirects cell phone radiation away from the head without interfering with signal levels. The eco-chic Slainte "cityblock" moon bag is made in San Francisco using recycled fabric and materials. Eucalyptus also frequently posts new videos on health, wellness and green living.
The issue also offers Green Tips on the holiday season, including giving time instead of presents, wrapping gifts with materials already found in the house, and using seasonal spices and oils to scent the house. Green Tips also air on two radio stations: MIX 106.5 and 94.5 KBAY.
In honor of the November/December 2011 issue, Eucalyptus is offering a special offer. To find out more, visit: eucalyptusmagazine.com/specialoffers.
For more information about going green for the holidays, or for information about any of Eucalyptus magazine's products or services, call them at (408) 335-4983 or view them on the web at eucalyptusmagazine.com.
About Eucalyptus
Eucalyptus is the San Francisco Bay Area's resource for green and health-conscious lifestyles. Through the print publication, website and networking events, Eucalyptus shares knowledge and inspires readers to celebrate their health, support local businesses and surrounding communities, and protect the environment. Since its first publication in 2009, Eucalyptus has been well-received by the health-conscious and green living community and industry. Eucalyptus is the winner of the 2010 Apex Awards for Publication Excellence for green publications and the 2010 Gold MarCom Award for green publications. The magazine is available at over 350 locations in the Bay Area and online at eucalyptusmagazine.com.
# # #