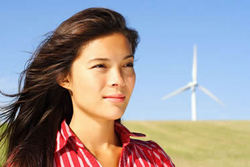 "Green Host It sees the future. We are the future of web hosting, placing web success within the grasp of anyone with lower fees and higher levels of support end-to-end," the company stated in a recent press release.
Austin, Texas (PRWEB) May 11, 2010
Green web hosting is like a breath of fresh air within the web site hosting industry. A smaller carbon footprint, cradle to grave green practices and the immediate recognition by site visitors that your web brand is part of the vanguard leading the way to a brighter, healthier environment.
Green Host It, the first top-down "green" web host, recently announced that the company was making it even easier for site owners to make a positive statement about their businesses while taking positive steps toward cleaner air and a less toxic world.
A company spokesperson announced, during a private telephone interview, that Green Host It was dropping its prices and offering a basketful of other incentives to encourage prospective web site owners to go green from the day they launch.
What's Green Host It doing? And why is it such a big deal? Such a good deal? Well, most start-up, web-based businesses have to pinch pennies to get by so Green Host It has made it easier to go green and save green, whether you're a prospective client, web designer or site owner who recognizes the importance of keeping it green while keeping more green in your pocket.
Green Host It, with the 86K square foot facility, in Plano, Texas, is offering a basketful of goodies to new site owners and other web-based workers including:

a 30% discount on web site monthly hosting fees - FOREVER
the elimination of all set-up fees (but you still get top-tier techs to do the heavy lifting)
free domain registration, even with the entry-level hosting package
free annual domain registration FOR LIFE (you never pay a penny)
live chat so you get answers when you need them – NOW
a toll-free support telephone number to handle everything from tech to billing questions
end-to-end "green hosting" that makes a positive statement about YOUR business' corporate values
During a recent conference call to web-based media outlets, the company's CEO made it clear that Green Host It is leading the way in this newest and most exciting arena of web-hosting.
"We want everyone to have low-cost access to the web because we know that's where the new economics are taking business owners. More importantly, we've seen energy consumption from traditional sources expand dramatically along with the technological advancements on the W3, and we realize that, as a web host, we have a responsibility to lower our energy use."
It's true. Today's web users expect more. However…
…streaming video, instant communication, sales support in real time and essential utility and functionality are all consuming more energy from coal-fired energy generation plants. Green hosting is changing the way we all use the web by delivering the same level of service without the downside of toxic gasses released into the air that we, our children and grandchildren breathe.
Green Host It is the leader in the field of ecologically responsible hosting services, employing cradle-to-grave practices that enable us all to access the web while leaving a smaller carbon footprint.
"We've lowered the cost of responsible web hosting and made it simpler for site owners and designers to access these tools of tomorrow," stated the company's president. "Our two main objectives are clear – to provide the means for all web site owners to take part in the fastest growing marketplace the world has ever seen, and to deliver the tools to accomplish this in an environmentally responsible fashion."
It's easy to get started. Simply enter the word "SPRING" in the promo code box located on Green Host It's sign-up page to enjoy all the benefits the company delivers to its fast-expanding client base.
"We're making the planet a better place to live today and in the future. We're also…[making] it easier to take responsibility and make a statement about your web business' core values," the company's CEO explained.
Green Host It leads the way with the newest technologies, the highest degree of client care and dedication to both the environment and the success of new, web-based businesses.
"Green Host It sees the future. We are the future of web hosting, placing web success within the grasp of anyone with lower fees and higher levels of support end-to-end," the company stated in a recent press release.
So, go green and save some green in the process. It's where the world and the world wide web are heading, led by a company that says it all – Green Host It.
Now more than ever. Choose green web hosting with GreenHostIt.com.
Contact:
Green Host It, Inc.
3267 Bee Caves Rd., Suite 107, # 285
Austin, Texas 78746-6700
Toll free - (888) 494-6393
Fax number: (888) 280-9487
###