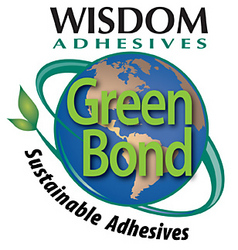 Elgin, IL (PRWEB) December 6, 2008
Wisdom Adhesives, North America's top mid-sized adhesives manufacturer and an environmental leader, announces their new GreenBond Sustainable Adhesives Scorecard that measures the sustainability of their adhesive products. Wisdom developed a formula that determines both a green score and a sustainability level for their adhesive products. The formula includes three quantifiable components; green, the non-VOC, and the functionality. The green component measures the percentage of the product not produced from petrochemicals. The non-VOC component shows the non-volatile organic compound percentage of the product. The functionality component involves various factors such as:
relative performance strength of the chemistry of the adhesive
relative recyclability
lean manufacturing principles used in the processing of the adhesive
renewability
biodegradability-compostability-repulpability
overall energy conservation- the amount of energy used and waste material generated
Once these three components are quantified, the following formula is used per product:
(.50 x %Green Component + .50 x % NON-VOC) x Functionality Quotient = GreenBond Score
The Greenbond Score fits within one of the three levels of sustainability with level one being the highest. Wisdom's Greenbond Scorecard is available on the Wisdom Adhesives website at http://www.wisdomadhesives.com.
Wisdom's number one priority is developing sustainable adhesives products. The GreenBond Sustainable Adhesives Scorecard creates quantifiable standards for Wisdom to follow as they develop more sustainable adhesives products. Additionally, the scorecard gives customers more information about the sustainable nature of Wisdom's adhesives products.
Founded in 1875, Wisdom Adhesives is a fifth-generation owned and managed company and well-known innovator and manufacturer of adhesives for a wide variety of industries, including: graphic arts, printing, packaging, bookbinding, publishing, paper, assembly and display. Wisdom Adhesives has a long-standing commitment of responding to customer needs faster - with a 24-hour turnaround - than any company in its industry, providing high-quality products and personalized service second to none.
Please visit the Wisdom Website or call 847.841.7002 to obtain more information about the GreenBond Sustainable Adhesives Scorecard. Wisdom Adhesives' 32,000 sq. ft. corporate headquarters and manufacturing facility is located at 1575 Executive Drive, Elgin, IL 60123.
###