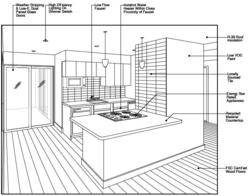 I always tell clients that the most influential move that they can make is to adopt a sustainable lifestyle through fundamental adjustments in water and energy use.
San Francisco, CA (Vocus/PRWEB) April 19, 2011
As the cost of a major remodel or completely new house is cost-prohibitive for most people, San Francisco green architect Matt Hollis describes simple measures to optimize an existing building or apartment. Through basic modifications to a building's infrastructure, owners can lead occupants to be frugal with their energy and water consumption. An upgrade strategy may range from individual components to renovating an entire structure. Benefits will be quantified by lower utility bills, enhanced user comfort, and the satisfaction of helping to save the planet.
"When improving the heating infrastructure of any dwelling," Hollis explains, "the first question to answer is whether to modify and adapt individual components or to make a more substantial investment and embark on an extensive renovation." Qualifiers include budget, schedule, and whether or not the residence is occupied during construction.
"I always tell clients that the most influential move that they can make is to adopt a sustainable lifestyle through fundamental adjustments in water and energy use," Hollis continues. "When renovating bathrooms and kitchens, owners should dispense with nostalgia for antique plumbing fixtures and purchase new models." Low-flow toilets, shower and hand faucets minimize water usage. In some cases, on-demand water heaters help conserve by shortening the wait time for hot water and eliminating the need for constantly heating a water tank. If purchasing new fixtures is cost-prohibitive, regular maintenance will at least detect and correct the presence of continuous drips and leaks.
When shopping for new appliances, homeowners should always look for the Energy Star seal. A program run jointly by the Environmental Protection Agency and the Department of Energy, Energy Star encourages appliance manufacturers to design new high quality energy efficient products. In addition to substantial savings on utility bills, consumers enjoy tax credits by upgrading water heaters, furnaces, washers, dryers, and all kitchen appliances.
A building walk-through with a qualified architect or mechanical engineer will generate a discussion on ways to optimize the heating and ventilation of an existing building. A comprehensive strategy will include replacing old windows with low-E dual-pane, installing R19 wall insulation and R30 roof insulation, and upgrading old forced-air furnaces with more efficient modern units as part of a new multi-zone control system. Less expensive and more readily applicable measures include weather stripping doors, caulking loose window frames, and providing fabric curtains as interior window coverings. "Reduction of unwanted airflow is key," Hollis maintains.
The California Building Code already requires new construction to include at least half of the wattage for new kitchen lighting to be generated by high-efficiency or fluorescent lighting. Use of dimmers, task lighting (as opposed to ambient), and LED fixtures can further enhance efficiency in residential lighting.
Aside from energy and water conservation, choice of new building materials contributes to the relative sustainability of a renovation. Whenever possible, a contractor is well advised to purchase materials and products that can be sourced locally. In addition to shorter lead times and lessened shipping costs, the associated carbon footprint is reduced.
Recycled and reused products divert previously discarded material from the waste stream. Floor tiles crafted with bald automobile tires and countertops formed from crushed glass reveal inspirational stories of rebirth. Clever appropriation of old doors, flooring, and cabinetry similarly divert waste from landfill.
When buying new materials, discerning purchases often require research and comparison. FSC (Forest Stewardship Council) certification provides assurances that a wood product was grown and harvested in a sustainable manner. Low VOC (volatile organic compound) paints and construction adhesives suggest that inevitable off-gassing will not be harmful to occupants or the atmosphere. Green-Label Plus carpets are sourced in a sustainable manner and similarly low in VOCs.
"I'm heartened to hear my clients consistently request ideas on how to lower their utility bills and make their planned remodel more green," beams Hollis.
For more information about MH Architects San Francisco and their design services, call the office at (415) 659-8307, view the MH Architects portfolio on the web at http://www.matthollis.com, or visit the MH Architects Facebook page.
About MH Architects
As a multifaceted architecture firm, MH Architects San Francisco brings 21st century sustainability and design to a range of projects including residential homes and apartments, wineries in Napa and Sonoma Counties, hotels, offices and institutional projects. In addition to their projects in California, MH Architects has provided architectural services in Japan, China, and Hawaii.
###