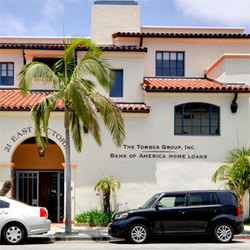 Taking our core values and applying them to the process of "Going Green" made it very easy to gain the level of commitment needed from each Towbes team member to want to make a difference.
Goleta, CA (PRWEB) September 23, 2010
The Towbes Group, Inc. mission of "Making our corner of the world a better place, one project, one idea and one person at a time" rings loudly as their corporate office, at 21 East Victoria Street in Santa Barbara, recently received the Green Business Program of Santa Barbara County certification. The Towbes corporate office operates as the company's administrative hub offering support to the many residential and commercial properties Towbes constructs, leases, and manages.
Towbes has pledged their commitment as an environmentally responsible business by utilizing the best daily green business practices, including:
1. Paper products are recycled and post consumer recycled contents are used;
2. Recycling bins are provided at every desk, including the central workroom and conference rooms;
3. Disposable kitchen products have been replaced with ceramics and washable silverware;
4. Bulk product purchasing is centralized to reduce excessive packaging; and
5. Within the office, the slogan, "Scan When You Can" is found on office equipment to discourage copying.
These efforts, together with participation in the foodscrap program, helped Towbes achieve its 85% waste diversion objective.
The Towbes Group corporate office has also invested in many facility improvements, including, in part:
1. Complete restroom fixture replacement to new low flow units and control valves to improve water conservation;
2. HVAC system replacement, capturing better energy management controls and state-of-the-art energy efficiencies;
3. Lighting upgrade program to replace obsolete fixtures and install motion control lighting.
These major enhancements contribute to long-term facility operational improvements through resource efficiency.
The Towbes Group corporate office green business practices also extend to the company's most valuable resources, its employees, by offering fully subsidized transit fare as well as bicycle raffles and carpooling rewards redeemable for local merchant gift cards. Towbes' electric car "Towbie" is available to employees throughout the day for daily errands and bike storage and on-site shower facilities are also provided.
As a full service real estate company with a portfolio of over 2100 residential units and 2 million square feet of commercial space, The Towbes Group recognizes the opportunity to extend their green philosophy beyond the corporate office. The Towbes Group core values of Team, Return on Investment, Sustainability, Customer Service, Integrity, Quality and Community, are and exemplified through Michael Towbes' commitment to the South Coast as well as throughout this certification process.
The Towbes Group is pleased to be certified by the Green Business Program of Santa Barbara. Craig Minus, the Towbes Green Business Certification project leader, summed it up best: "Taking our core values and applying them to the process of "Going Green" made it very easy to gain the level of commitment needed from each Towbes team member to want to make a difference. Our next step is to integrate these green habits into the Towbes residential and commercial real estate portfolio to improve their practices as well as provide our "Going Green" resources to our residents and tenants. The big picture goal is to have an impact greater than ourselves."
# # #