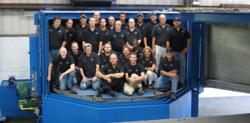 St. Louis, MO (PRWEB) August 30, 2012
Increasingly US businesses are looking for ways to reduce their environmental waste. One area in particular generates 40 to 50% of the waste in diesel engine rebuilding shops – parts cleaning. Solvents are the traditional cleaning medium that leads to large quantities of hazardous waste when cleaning large parts like Caterpillar diesel engine blocks for repair, rebuild and remanufacturing. An alternative parts cleaning method developed by StingRay Parts Washer does the same job without the hazardous waste.
This environmentally friendly parts washer eliminates solvents by using aqueous cleaning technology. The unique "power wash" process couples high impact oscillating blast nozzles with proprietary dual stage pumping systems that deliver in excess of 4 tons of cleaning solution per minute. The pump's capability of pumping near boiling cleaning solution at high pressure cleans everything that solvents clean but without the hazardous waste issue. The automatic aqueous parts washer strips paint, carbon, oil and grease in short 15 minute cycles from engine blocks, engine heads, transmissions and drive train components while eliminating the hazards associated with people manually using solvents and hand wiping off the residue. Solvents are known carcinogens.
The StingRay industrial parts washer meets the environmentally "green" technology by reusing the cleaning solution in a closed loop zero discharge process. StingRay Parts Washers conserve water, reduce energy consumption, do not pollute the environment and eliminate solvents thus meeting the goals of GREEN TECHNOLOGY.
On Aug 28, 2012 StingRay shipped its largest aqueous parts washer to date. The 13648 diesel engine parts washer features a 136 inch diameter work surface with a 60 inch work height. Enough room to automatically clean the largest Caterpillar diesel engine block, the C175 weighing over 18,000 pounds.
To learn more about the StingRay 13648, please visit the website: http://www.stingraypartswasher.com/part_washer_specs_13648_chamshell.html
ABOUT STINGRAY MANUFACTURING LLC
StingRay Manufacturing provides cleaning solutions to transportation, mining, agriculture, oil, earth moving, and trucking industries. StingRay manufactures a full line of cabinet style parts washers, including diesel engine washers and electric motor parts washers as well biodegradable detergents and parts washer replacement parts.
StingRay Manufacturing designs and manufactures energy-efficient heavy-duty parts washers for engine rebuilders, electric motor rebuilding, off road vehicle maintenance and railroad maintenance operations. StingRay Manufacturing has global sales offices, manufacturing and R&D operations in St. Louis, MO. Please visit http://www.stingraypartswasher.com for more information.