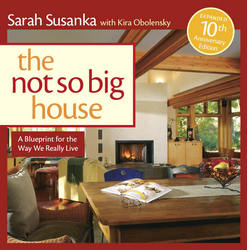 The Not So Big House
Atlanta, GA (Vocus) June 11, 2010
The Green Building Council of the Greater Atlanta HBA presents Sarah Susanka, author of "The Not So Big House" series June 29 at 6 p.m. Susanka will speak about responding to the changing preferences of today's cautious homebuyer at a dinner meeting at Villa Christina in Atlanta's Perimeter area. Her presentation is titled Systematically Green: Urban Roots to Suburban Regrowth.
The author of eight best-selling books, Susanka is a leader in the movement to redefine the American home and lifestyle. Her "build better, not bigger" approach to residential architecture has attracted a large following across the country. It has particular relevance in the current economy, which has caused a dramatic shift in the way homebuyers evaluate their housing choices.
According to Susanka, buyers are looking for "better" in terms of lower maintenance costs and utility bills, and floor plans designed for active lifestyles. She believes the "not so big" philosophy can be a first step in sustainability, improving the wellbeing of individuals and the planet.
Susanka has been featured widely by the media, including on Oprah. Her work has been praised by Newsweek and US News and World Report. She is a recipient of the Anne Morrow Lindberg Award for "outstanding individual achievement demonstrating a spirit in initiative… and making positive contributions to our world." In 2009 Susanka was named a Top 30 Innovator by Builder Magazine.
Pre-registration is required for the event. Call (678) 775-1446 or click on atlantahomebuilders.com/education/classes-events.cfm. Select the program on June 29th. The cost, which includes dinner, is $35 for Green Building Council members, $45 for non-council members and $55 for non-HBA members. There is an additional $15 walk-in fee for those who do not pre-register. Villa Christina is located at 4000 Summit Blvd., Atlanta 30019. Event Details
The Green Building Council of the Greater Atlanta Home Builders Association promotes environmentally responsible home building in the great Atlanta market. The council brings together professionals involved in the planning, building, remodeling, marketing and selling of high-performance homes and their related products and services. To learn more about the council visit: AtlantaGreenBuildingCouncil.com
The Greater Atlanta Home Builders Association (HBA) is a 2,000-member, not-for-profit trade association affiliated with the Home Builders Association of Georgia and the National Association of Home Builders. The HBA is the fourth largest local homebuilders association in the nation and is dedicated to promoting, protecting and preserving home ownership by maintaining the housing industry as a viable economic force in the Atlanta area. The official charity of the HBA is HomeAid Atlanta, a non-profit organization that builds and renovates transitional housing for metro Atlanta homeless children, women and men.
# # #