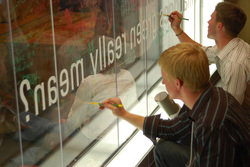 Austin, Texas (PRWEB) May 13, 2008
Austin-based Hoopla Marketing, a creative strategic marketing agency, will be honored in the May issue of Exhibitor Magazine. Hoopla won a Special Merit-Award in the Green Exhibit category of Exhibitor Magazine's 22nd Annual Exhibit Design Awards competition. The award recognizes Hoopla's design of the Dell, Inc. exhibit space at the ICSID IDSA Connecting '07 World Design Congress.
Hoopla worked in close collaboration with Hope Lawrence, Design Liaison, of Dell's Experience Design Team to architect an exhibit space that begins the conversation around, "What does green mean to you?" Hoopla created the eco friendly space with unique materials and interactive elements. The space features two 7' x 16' graffiti walls where conference attendees write their answers to that very question. It also features a Forbo™ biodegradable floor, waterwall with 3Form™ inset ecoresin™ panels, and a custom-made question mark bench upholstered in Maharam™ fabric and punctuated with Bolero™ grass.
"Our focus was as much about creating a space that welcomed interaction as it was to create something green," said Ivy Oliver, Vice President of Hoopla Marketing. "It had to meet every criteria of a successful exhibit."
The agency prides itself on creating interactive experiences, so connecting with the client's audience--in this case, industrial designers--was key.
"We wanted to prove that you can blend green materials with fun, hip, tactile spaces that people can enjoy," said Oliver. "When we take on an exhibit design project, human interaction and the human experience are always top of list."
The green-built space opened visual discussions around how designers connect with their technology, with each other, and with the challenges and opportunities of green design. Hoopla's unique approach with green materials garnered much attention among attendees at the Connecting '07 World Design Congress.
"We are truly honored by the award," said Oliver. "The peer recognition is great, and affirms what we're doing at Hoopla Marketing is resonating with the exhibit design community."
Hoopla teamed with Exponents, Inc., a San Diego-based custom exhibit design and manufacturing company for the fabrication of the graffiti walls.
"Exponents has a great illuminated product that was easy for us to mold to our custom design to create an exhibit space that was green, simple and beautiful," said Oliver.
About Hoopla Marketing
Hoopla Marketing is one of the most creative strategic marketing teams on the planet! Based in Austin, Texas, this small agency takes a multidisciplinary approach to starting conversations, creating great experiences, and getting its clients noticed. Hoopla has worked with clients such as AMPM, CaseFileXpress, Bridge360, CitiBank, Convio, Dell, Inquisite and SpineSmith, in each case providing creative with a strategic marketing purpose.
Founded in 1987, Hoopla's creative portfolio has been honored with multiple Golden Pyramid Awards as well as featured in Graphic Design USA magazine, Salesforce XP magazine, Impressions magazine, and American Corporate Identity, an upcoming book. Visit Hoopla Marketing to view more about this exhibit.
About Exponents
Based in San Diego with an office in Irvine, California, Exponents is a pioneering component-based custom exhibit firm with 60 employees, thousands of clients, and 65 authorized dealers who represent its products in the U.S. and abroad.
Exponents creates exhibits that combine patented processes, state-of-the-art manufacturing and design brilliance. The Company has engaged in non-stop product development for 25 years. Go to Exponents for more information.
About Exhibit Design Awards
Established in 1986, the Exhibit Design Awards honor the world's best trade show exhibit designs. One EDGE Award, for Exhibit Design and Graphic Excellence, and multiple Gold, Silver, and Special-Merit Awards are offered in 15 categories. The 2008 competition drew roughly 175 entries, of which 35 were international, representing 12 countries, including Germany, Hungary, South Africa, Turkey, Australia, and Thailand, among others. Winning entrants will receive a custom trophy, and winning designs will be showcased in a feature article in the May 2008 issue of Exhibitor and at Exhibitor Magazine
###