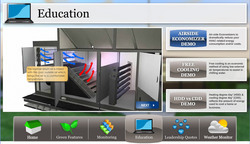 Ankeny, IA (Vocus) September 1, 2010
QA Graphics, a developer of award-winning interactive solutions used to provide education about sustainable building practices and energy efficiencies, announces the successful completion of an Energy Efficiency Education Dashboard for Georgia Data Center, an 80,000-square-foot data center located in Atlanta, Georgia.
QA Graphics' Energy Efficiency Education Dashboard is an interactive application, similar to a website, used to showcase an organization's sustainable efforts. The application is displayed on an interactive touchscreen located in the data center's lobby to show staff and visitors of Georgia Data Center how efficient the building's performance is and what "green" features are utilized throughout the building. As a recently constructed building, the data center is seeking gold certification under the U.S. Green Building Council's (USGBC) LEED for New Construction Rating System. The educational display is part of this accreditation process, to help achieve the Innovation in Design – Green Education credit.
The data center's Energy Efficiency Education Dashboard highlights the green features implemented at the facility and explains how those initiatives help reduce the building's operating costs and improve the environment. A detailed LEED checklist describes how the sustainable features in place comply with the U.S. Green Building Council's LEED certification process. For example, to conserve water outside of the facility, efficient landscaping with a storm water management plan is in place and 27 percent of the area is dedicated as an open space for vegetation. Inside of the facility, low-flow faucets and urinals are used to conserve water. And during the construction process, recycled content, local materials, certified wood and 77.25 percent of the waste generated was recycled and diverted from the landfill.
Georgia Data Center worked with WayPoint Systems, Inc., a provider of building automation systems (BASs), to integrate an efficient building system and ensure that the HVAC system operates efficiently to maximize the energy performance. The data center was designed to use 40 to 50 fewer air conditioning units than typical data centers, and the operation time has been reduced to four days a week instead of five, reducing both operation costs and employee commutes. To display live building data, QA Graphics worked with WayPoint Systems to integrate the Energy Efficiency Education Dashboard with the data center's control system, which allows the application to "talk" to the building automation system. This lets staff and visitors see the building's real-time chilled water system, electric use, and CO2 levels in a way that's easy to understand.
"By integrating the Energy Efficiency Education Dashboard with the data center's control system, we're able to show everyone how efficiently the building operates in a way that's easy to understand, and it allows viewers to see how their actions directly impact the building's performance," said Paul Bennett, VP of Critical Systems at WayPoint Systems, Inc.
In addition to displaying live building performance data, educational demonstrations show how the sustainable features in place at the data center actually work, like how free cooling is used to rely on low outside air temperatures to help chill the building's water, and how an air-side economizer reduces the facility's energy consumption costs. Providing education about sustainable practices and building performance is an important step to ensure that everyone makes resource efficient decisions in their day to day lives. Using an educational tool such as QA Graphics' Energy Efficiency Education Dashboard can also help earn Innovation in Design credits when seeking the U.S. Green Building Council's LEED (Leadership in Energy and Environmental Design) certification. QA Graphics has provided this educational tool for schools, universities, libraries, commercial buildings, government buildings and restaurants. To learn more, visit http://www.qagraphics.com/eeed.
About QA Graphics
QA Graphics is an innovative computer graphic development company specializing in the building automation and green building industries. The company is an industry leader in the design of graphical user interfaces (GUI) and award-winning energy education dashboards used to showcase a building's performance and sustainable initiatives. The company also provides comprehensive creative services including graphic outsourcing, 3D design/animation, drafting, interactive content and website development.
###