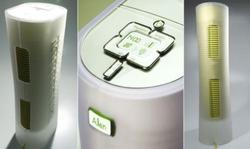 Paralda is unlike any air purifier previously available to U.S. consumers to date - it creates an entirely new category
Austin, Texas (PRWEB) October 6, 2008
October is Energy Awareness Month, a time when government organizations in partnership with businesses promote public understanding of our nation's urgent need to reduce energy consumption - and suggest consumers purchase Energy Star qualified products. The government awards the Energy Star qualification to those products that meet strict specifications established by both the U.S. Environmental Protection Agency and the Department of Energy. In an effort to substantially reduce energy consumption in the home while providing the cleanest air possible, Texas-based Alen Corporation has unveiled the first and only green air purifier ever available in the U.S. called Paralda - featuring 100% lead-free components, RoHS compliance, ozone safe, and Energy Star qualified - using less energy than a traditional light bulb.
"Paralda is unlike any air purifier previously available to U.S. consumers to date - it creates an entirely new category," said Peter Mann, CEO of Alen Corporation. "The powerful yet extremely energy efficient four-speed Paralda couples stylish design with the most advanced HEPA filtration cleaning system available, a UV lamp to kill bacteria in the air - that is set to last 3 to 5 years, ionizer, the industry's best lifetime warranty, and an easy-to-use 24-hour programmable timer. For holiday shoppers looking for the safest and most efficient air purifier on the market this Christmas or Hanukkah - Paralda is the only green, portable air purification appliance available," concluded Mann.
Technical specifications for Paralda are as follows:

Power Consumption: 55W
Fan Speeds: 4
Energy Consumption by fan speed: 1: 19W, 2: 29W, 3: 41W, 4: 55W
Power Supply: 115V / 60Hz
Controls: Electronic with light touch activation
Room Size: Best performance up to 400 sq. ft.
Clock: Yes, 24 hour programmable
Noise Level: 39 dBA on low, 60 dBA on high
Dimensions: 7"W x 11"D x 28"H
Unit Weight: 15 lbs
Warranty: Lifetime
HEPA filter efficiency: 99.97%
HEPA filter life: 6-9 months continuous use
UV lamp life: 3-5 years
In addition, Alen Corporation is deeply committed to maintaining "green" warranty standards as Mann points out, "We have the best lifetime warranty in this industry sector - which we believe shows our steadfast commitment to not only producing the highest quality air purification products possible - but illustrates our commitment to keeping Alen products out of landfills. We see an Alen Corporation customer as a customer for life … we value the opportunity to provide the absolute best repair and service terms in the industry."
Paralda is available for purchase nationwide starting this month online from Alen Corporation, Target, and Linens 'n Things, Inc. The retail price is $499.00 U.S.
Visit http://www.alencorp.com/ProductDetails.asp?ProductCode=Paralda to purchase a new Paralda or obtain more information.
About Alen Corporation
Privately held, Texas-based Alen Corporation (http://www.alencorp.com) is a leading manufacturer of innovative indoor air quality products including HEPA air purifiers, portable air conditioners, dehumidifiers, and odor sprays.
Media Contact:
Ria Romano, Partner
RPR Public Relations, Inc.
Tel. 786-290-6413
# # #