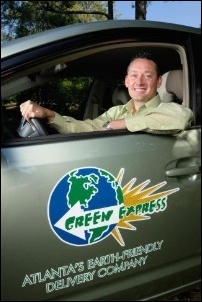 The fact they drive hybrid cars - as well as being extremely reliable - is an added attraction for anyone who cares about controlling air pollution
ATLANTA (PRWEB) May 23, 2007
Affordable gas is the lifeblood of any courier company. With gas prices at an all-time high, the hybrids are delivering significant savings. Green Express has carefully tracked the numbers. They estimate the hybrid cars used 46% less gas than traditional cars since the first of the year. Green Express drivers travel at least 2,500 miles every day delivering packages throughout metro Atlanta in 16 counties. Green Express hybrids average 47 miles per gallon, while their traditional cars get just 25 miles per gallon.
Plus, the hybrids are zero-emission vehicles while idling or going below 30 miles an hour. At higher speeds, they put out one ton of greenhouse gases to every 3.4 tons spewing from traditional cars.
Holgate and his team all have young children which was another motivator to go green. He notes that, "with Atlanta's frequent smog alerts, we have more cases of childhood asthma than any city in the country. Reducing air pollution matters. It matters to our kids. And it matters to our customers."
So far, 35 new customers have come on board. As the idea continues to take off, financial partners are prepared to roll out the green concept nationally. Operating as Georgia Couriers for seven years using traditional cars, the company was renamed Green Express in January this year. "Green Express is timely and easy to do business with. As a bonus, I'm also sending a message that we are mindful of using resources wisely," offers new customer Gordon Kenna, Executive Director of the Georgia Concrete and Products Association.
Environmental groups like the Georgia Conservancy and Atlanta Botanical Garden have switched to Green Express. So have environmental attorneys Morris, Manning and Martin, and three divisions of Interface, Inc. - a global carpet manufacturer known for its leadership role in reducing the company's carbon footprint worldwide. Interface's legal secretary Karen Daniel uses Green Express almost every day. "The fact they drive hybrid cars - as well as being extremely reliable - is an added attraction for anyone who cares about controlling air pollution," Daniel says.
Once Green Express took the leap of going green, it became a crusade - a kind of challenging game - to filter every process through an environmental microscope. By employing the most advanced GPS mapping technologies to boost efficiencies even further, drivers are often rerouted to alternate roads to avoid the worst congestion - another way to save fuel. One wrong turn can waste a gallon of gas every day times 10 cars; that's at least 2,200 gallons a year. "We also advise our customers on the best times for pick-ups and deliveries to use gas more efficiently," Holgate adds. And the company has moved to paperless e-billing and designed an easy online system for placing orders.
Holgate encourages his customers to rethink how often they use their own cars for trips Green Express can easily handle. "We are already on the road using the most efficient routes driving zero-emission cars," Holgate remarks. "It makes sense to let us run personal errands as well as business deliveries to save gas and people's precious time." Learn more at greendelivers.com.
For photos and to schedule an interview, please contact Lisa Frank at 404/255-8567 or lafrank@comcast.net