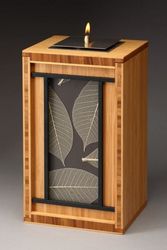 Many of the families we work with are environmentally conscious about the products they buy on a daily basis
Lisle, IL (PRWEB) February 3, 2009
A growing number of consumers are making environmentally friendly products part of their daily lives. But why stop there? A new line of eco-friendly cremation urns from Richard Lamb New Traditions helps consumers stay green to the very end, with minimal impact on the environment.
The urns, available at Richard Lamb New Traditions, are handcrafted in the United States from responsibly produced materials such as sustainable bamboo and at least 50% recycled steel. As a result, the urns have less environmental impact after burial. If families choose to keep the urn as a green in-home memorial, however, they can customize any model with a commemorative paraffin oil lamp or solid bamboo lid.
"Many of the families we work with are environmentally conscious about the products they buy on a daily basis," says Richard Lamb, the memorial merchandising Web site's founder and 45-year veteran of the funeral industry. "When they realize that the cremation urns they choose are likely to have a lasting effect on the environment, as well, they ask for greener options."
Richard Lamb New Traditions is a family-owned and -operated retailer of memorial merchandise for people and pets. The company's Web site features memorial options that help consumers create personalized, lasting tributes to their loved ones.
###