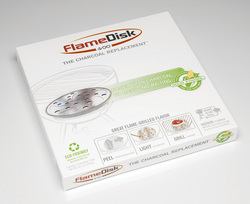 Madison, Wisconsin (PRWEB) March 24, 2009
Thousands of grilling enthusiasts now have more free time following the invention of the FlameDisk, a revolutionary alternative to charcoal. This convenient grilling option, which employs solid ethanol as its fuel source, lights instantaneously with the touch of a match and is ready to cook on in less than one minute, eliminating the time needed to arrange and light coals. From ignition to cooking, the FlameDisk saves roughly a half hour of wait time while giving eco-conscious cooks a green grilling alternative.
Once lit, the disk will continue to burn for at least 40 minutes--ample time to cook any burger, hot dog, porterhouse or chicken breast. While the FlameDisk heat output is similar to charcoal, it creates no ash or soot, meaning there's no messy cleanup. After the solid ethanol fuel burns out, the FlameDisk cools to the touch in minutes --much faster than charcoal, which can take hours to cool before the ash can be safely disposed. This ability to cool off rapidly gives FlameDisk grillers the added security of knowing they are cooking safely, as no lingering coals means there is less chance to start an unwanted fire. Plus the FlameDisk does not require lighter fluid, so there is less chance for dangerous chemical leaks during transport or storage.
It's easy to grill green with the FlameDisk, which employs a completely renewable biofuel and is packaged in recyclable materials. The FlameDisk's ethanol fuel burns extremely cleanly and produces 99% less carbon monoxide than charcoal. Not only is the FlameDisk an eco-friendly charcoal alternative, it is an attractive grilling option for those who are concerned about the health effects of grilling. For those who love the taste of charcoal, the FlameDisk's unique "Smoker Plate" gives grillers all the flavor to which they are accustomed; blind taste tests prove there is no difference versus charcoal.
Be it spring, summer, autumn or winter, the FlameDisk is perfect for casual grillers and seasoned experts alike. Novices will enjoy the ease of use while pros will enjoy the mess-free grilling experience. Outdoor enthusiasts can now take grilling to a whole new level by grilling anywhere and everywhere, and propane grillers can keep a few FlameDisks on hand as "spares" should the gas run out in the middle of the barbecue. The FlameDisk is also perfect for tailgaters who want to focus on cheering on their favorite team instead of worrying about cleanup.
Available for about $4.99 at select supermarkets and hardware stores across the country, the uGO FlameDisk is also available for purchase online. To find the nearest FlameDisk retailer, please visit http://www.ugogrill.com/wheretobuy.html.
About Sologear
Sologear, LLC is a Middleton, WI-based company that is developing and marketing a line of revolutionary new products for the consumer grilling industry. Visit http://www.FlameDisk.com for more information.
###