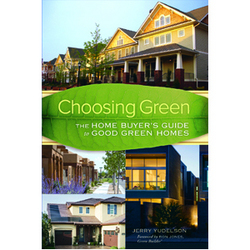 With the knowledge of authors and building experts like Jerry Yudelson, the average home buyer now has the ability to make intelligent decisions.
Tucson, AZ (PRWEB) July 15, 2008
Jerry Yudelson today announced the publication of his new book, "Choosing Green: The Home Buyer's Guide to Good Green Homes." The 224-page trade paperback book was published by New Society Publishers, Gabriola Island, British Columbia. New Society is a well-known mainstream publisher of green building and sustainability books.
According to Yudelson, "'Choosing Green' is the first book aimed at the new home buyer, showing her how to buy a green home, who's building them, what the rating systems mean, and what questions to ask at the model home. My hope is that by arming the home buyer with more information about green homes that they will show up demanding that builders produce them. An informed and active consumer is the fastest and best way to energize market transformation."
This new green building book profiles more than 50 green home developments across the US and Canada, outlines the building science involved in the construction of green homes (don't worry, if you passed basic high school science and math, you'll find that part an easy read!) and explains the workings of more than 60 national, regional and local green building certification programs.
"Choosing Green" has numerous case studies, interviews with more than 30 home builders, home buyers and home raters, checklists, financing tips, worksheets and action plans. In an endorsement, Michelle Moore, senior vice president of the U.S. Green Building Council, says "'Choosing Green' is an authoritative response" to the challenge of buying a green home. Ron Jones, founder and editorial director of Green Builder magazine, says, "With the knowledge of authors and building experts like Jerry Yudelson, the average home buyer now has the ability to make intelligent decisions." "Choosing Green" is available now at bookstores and at Amazon.com, and other online booksellers
About the green building consulting firm, Yudelson Associates:
Yudelson Associates is a leading national and international firm in green building consulting firm. The founder, Jerry Yudelson, is widely acknowledged as one of the nation's leading experts on green building and green development. He is the author of eight green building books and serves as Research Scholar for Real Estate Sustainability for the International Council of Shopping Centers, a 70,000-member international trade organization. He is a frequent keynote speaker at green building industry and professional conferences. Mr. Yudelson also chairs the green building industry's largest annual show, GreenBuild, http://www.greenbuildexpo.com/
For more information on Yudelson Associates please visit http://www.greenbuildconsult.com
###