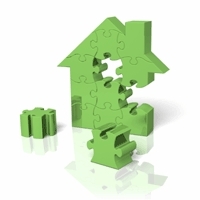 Even the smallest efforts can result in dramatic benefits when building a greener home.
Washington, DC (PRWEB) May 3, 2010
Hanley Wood, LLC, the leading media company serving the residential and commercial construction industries, announces an Efficient Living Upgrade service for all house plan purchases. Many home plans come with general guidelines to "green" the home, but for consumers interested in building a home that is proven to be healthier and energy-efficient, the Efficient Living Upgrade is a must.
"Even the smallest efforts can result in dramatic benefits when building a greener home," said David Rook, General Manager for Hanley Wood Plans. "Incorporating green building practices or installing energy-efficient products can result in a more cost-efficient and healthier living environment," he added.
The Efficient Living Upgrade offers homeowners a set of instructions specifically tailored to their house plan and provides them with guidance for building a home that conforms to the leading certification programs, including U.S. Green Building Council's LEED® for Homes™ program, the National Association of Home Builder's National Green Building Program™ and ENERGY STAR for Homes. Essentially a guide for builders to follow during construction, the Efficient Living Upgrade service specifies the materials and construction practices required by these nationally recognized standards, including increased insulation values, thermal values for windows, and efficiency ratings for mechanical equipment. In the case of point-based certification systems such as LEED for Homes, the upgrade indicates where extra points can be earned and calculates what level of certification can be achieved.
To learn more about the Efficient Living Upgrade and to search for house plans, projects plans and more, visit ePlans.com today.
About Hanley Wood
Hanley Wood, LLC, is the premier media and information company serving housing and construction. Through four operating divisions, the company produces award-winning magazines and Web sites, marquee trade shows and events, rich data and custom marketing solutions. The company also is North America's leading publisher of home plans. Hanley Wood Business Media (Washington, D.C.), publishes 30 award-winning residential and commercial construction titles, including Builder, Remodeling, Custom Home, Concrete Construction and residential architect. Hanley Wood Business Media also offers the construction industry's foremost collection of Web sites, including Builder, Remodeling, and ebuild, the comprehensive online guide to building products, as well as the largest collection of house plans online through ePlans.com and Dream Home Source.
Founded in 1976, Hanley Wood is one of the ten largest B-to-B media companies in the United States. Hanley Wood is owned by affiliates of JPMorgan Partners, which uses CCMP Capital Advisors to manage this investment.
###