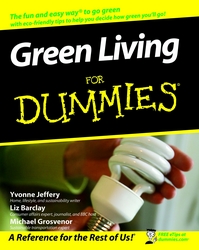 more than a publishing phenomenon, but a sign of the times
Hoboken, NJ (PRWEB) March 6, 2008
For those that want to join the green movement but don't know how or where to begin, a new book from the popular For Dummies series is here to help. Packed with simple tips and clear-cut instruction, "Green Living for Dummies" (a Wiley imprint, February 2008, 368 pages) proves that making small changes in a daily routine--at home, at work, and in the community--can add up to a big environmental difference.
Authors Yvonne Jeffery, Liz Barclay, and Michael Grosvenor explain in plain-English how to transform life at home into a greener experience. Readers will discover how to build and remodel a home in an environmentally friendly fashion; increase the efficiency of appliances such as televisions, fridges and washing machines; take advantage of eco-friendly cosmetics and cleaners; minimize garbage waste; and reuse common household items.
"Green Living for Dummies" discusses ways in which over-consumption has been responsible for harming the planet--from global warming to rising sea levels to the increase of dangerous chemicals in the world's air, water, foods, and toys. Here are some eye-popping statistics:
*Large-scale agricultural practices in the U.S. are washing away the nation's rich topsoil 18 times faster than it can be naturally replenished.
Solution? Grow fruit and veggies at home and buy organic or from smaller local farmers.
*Three-quarters of the world's ocean's fisheries are already overfished to a point that there is some form of restriction on what can be caught from them.
Solution? Before buying fish, know whether it is from sustainable stock and what the fish's body may contain. Find out if the fish is farmed or wild, as well as how the fish was caught.
*Each American, on average, uses up to 3 times more water (and this includes water used to manufacture things we buy) than someone living in any other country on the planet.
Solution? Reduce, reuse, recycle, don't run the taps…and cut back on impulse purchases.
The book covers positive developments, such as the rise of renewable energy sources like solar power and wind energy, and shows how simple consumer decisions can make a positive impact--i.e., choices on what to eat (the authors recommend cutting back on meat and bottled water, and increasing "Fairtrade" purchases); how to buy fish and read packages at the market; and what to buy at the clothing store and how to make it last longer.
"Green Living for Dummies" also provides information and tips on transportation, including the impact of operating a car, the pros and cons of various green vehicles on the market, and the wisdom of using alternative options wherever available. Take greener holidays by choosing to stay in green rated hotels, go on volunteer vacations, or donate to tree-planting programs when buying plane tickets (to offset the carbon dioxide produced by jet flights).
Like all For Dummies® books, "Green Living for Dummies" concludes with "The Part of Tens," including ten simple actions that can make an immediate impact on the environment and ten tips on repairing and restoring items rather than trashing them. An appendix in the back of the book offers a comprehensive listing of additional organizations and web sites to consult for those wishing to dig deeper into green living. In addition, a handy "Cheat Sheet" in the front of the book summarizes some quick ways to make one's daily life greener; tips for making recycling a snap; and some further informational resources.
About the Authors
Yvonne Jeffery is an author, editor, and feature writer whose work has appeared in National Geographic Explorer and American Profile, among other publications.
Michael Grosvenor is an urban planner who consults with public- and private-sector clients on sustainable transportation issues.
Liz Barclay is a consumer affairs expert, journalist, and the host of "You and Yours" on BBC Radio 4.
Green Living for Dummies®
By Yvonne Jeffery, Liz Barclay, and Michael Grosvenor
ISBN: 978-0-470-22742-7 / $19.99 U.S. / February 2008
For more straightforward information on going green, check out:
Green Building & Remodeling For Dummies 978-0-470-17559-0
Solar Power Your Home For Dummies 978-0-470-17569-9
To see all For Dummies titles, visit http://www.dummies.com
About For Dummies®
With near universal name recognition, more than 150 million books in print, and over 1,000 topics, For Dummies is the world's bestselling reference series. With loyal customers around the globe, For Dummies enriches people's lives by making knowledge accessible in a fun and easy way. Described by the N.Y. Times as "more than a publishing phenomenon, but a sign of the times," For Dummies span every section of the bookstore, covering everything from health to history, music to math, sports to self-help, technology to travel, and more. The Dummies brand franchise has expanded with an extensive licensed product line, including DVDs, software, consumer electronics, cooking, cleaning and automotive products, craft and hobby kits, games and more. For information, visit Dummies.com. For Dummies is a branded imprint of Wiley.
###