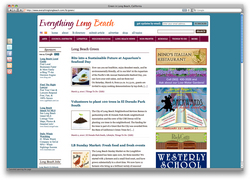 We're always looking for ways to encourage residents to get involved in the green movement on a local level
Long Beach, CA (Vocus) March 5, 2010
Climate change is one of the most daunting threats facing our world today. Creative solutions will be the key to changing the tides of the biggest fight of humanity. EverythingLongBeach.com will begin using Mokugift's tree-planting rewards as prizes for the Great Green Ideas contest.
As of March 4th, 2010, EverythingLongBeach.com has proudly planted 100 trees. These trees will absorb an average total of 500 lbs of carbon per year.
EverythingLongBeach.com actively supports green activities by promoting events that help the environment such as neighborhood tree-plantings and beach cleanups.
"We're always looking for ways to encourage residents to get involved in the green movement on a local level," said Barbara Holbrook, publisher. "We support a lot of volunteer efforts by promoting events on our website at no charge—community tree-plantings, beach cleanups, farmers markets and fundraisers.
The Long Beach News website will use Mokugift trees during their Great Green Ideas contest, which will solicit green living ideas from readers and then let the community vote for their favorites.
"Mokugift trees just seemed like a natural tie-in for our promotion," said Keith Lewis, Social Media Director. "We wanted something tangible that participants could 'open up' but, it was important that it fit with the spirit of a green contest. We didn't want something that could be thrown away and end up in a land fill."
"That's what we love about Mokugift," Holbrook added. "We can use the trees as a tangible reward for participation. Plus, it's a cost-effective way to get people excited about doing something green."
Everything Long Beach will kick off the Great Green Ideas contest in April. Be the first to know all the details by following the site on twitter and Facebook.
Mokugift created the 1,000 Ways To Plant A Tree campaign to enable innovative companies, like EverythingLongBeach.com, to invent news ways to plant a real tree as a gift for customers at $1 apiece. The goal is to plant 100,000 trees by July 29th 2010. These trees will absorb an average of 5 million pounds of carbon dioxide per year.
Mokugift trees are planted by farmers practicing environmentally sustainable forestry and agricultural methods in tropical zones in Central America, Africa and Asia. The plantings not only restock, with native trees, existing forests that have been depleted, but also contribute to more diverse, productive and economically sustainable land-use systems. Business can join the 1,000 Ways To Plant A Tree campaign today at Mokugift. Individuals can become fans of Mokugift on facebook to get updates on the newest ways to plant a tree.
An official partner of UNEP, Mokugift not only empowers corporations and individuals to participate in the Billion Tree Campaign, it also provides the tools to inspire others to participate. Tree planting is an easy first step towards more environmentally responsible choices, and Mokugift enables every company and individual concerned about climate change to make a difference and inspire others to do likewise. It is grass roots action like EverythingLongBeach.com's environmental programs that invigorate our planet and economy.
About EverythingLongBeach.com
EverythingLongBeach.com is a community website that covers news, politics, business and entertainment. Residents in search of things to do will find extensive listings for music, theater and art exhibitions. The site has also expanded to help tourists with information about Long Beach attractions such as the Queen Mary, Aquarium of the Pacific and other popular destinations.
EverythingLongBeach.com is one of three sites owned and operated by web publisher TalkStory Media. The company also runs a green living website (http://www.greeenworld365.com) and a health and fitness website (http://www.Healthy-Journey.com/).
EverythingLongBeach.com is supported in part by a grant from the Leadership Long Beach Connected Corridor project, made possible by Long Beach Community Foundation and John S. and James L. Knight Foundation.
About UNEP's Billion Tree Campaign
Launched in November 2006 by the United Nations Environment Programme (UNEP), with the objective of encouraging the planting of at least one billion trees worldwide each year, "Plant for the Planet: The Billion Tree Campaign" is now recognized as one of the UN's most successful environmental campaigns. To date, UNEP has tracked the planting of more than three billion trees in 166 countries. Now in its second stage, the campaign, which stresses the power of partnerships, has set a new goal of seven billion trees planted —roughly one tree for every living person on the planet. Every tree counts, and UNEP counts every tree.
For more information on the UNEP's billion tree campaign, please visit http://www.unep.org/billiontreecampaign/
About Mokugift
Mokugift's mission is to foster environmental solidarity by making it easy and rewarding for anyone to fight climate change and by providing the tools to inspire others to do the same. An official partner of the United Nations Environment Programme's Billion Tree Campaign, Mokugift collaborates with award-winning nonprofit agroforestry organizations such as Trees For The Future and Sustainable Harvest International to plant trees in twelve countries: Belize, Honduras, Nicaragua, Panama, Cameroon, Ethiopia, Burundi, Senegal, Zambia, India, the Philippines and Haiti. Using environmentally sustainable methods, farmers in these countries plant Mokugift trees to restock existing forests and enable more diverse, productive and economically sustainable land-use systems.
For more information on Mokugift, please visit http://www.Mokugift.com
###