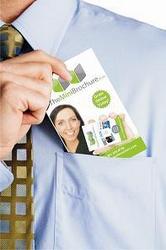 There's no need to hand out a business card, a big brochure, a coupon, and a one-sheeter all to get them to go to your website for more information
Salt Lake City, UT (PRWEB) October 6, 2009
TheMiniBrochure.com announces a new wave in business collateral that saves time, money, and the environment.
Business experts say a company's brand, its tagline, the look and feel of its marketing materials and website are just as important as the company's name and the service provided to back it all up. But what can companies do when the "green patrol" is glaring them down for passing out that pack of 1,000 business cards like its organic, sugar-free candy? Even worse, imagine the gasps when the patrol considers the carbon footprint left behind by companies still handing out that traditional brochure that opens to an 8.5 x 11 sheet of glossy ink.
"There's no need to hand out a business card, a big brochure, a coupon, and a one-sheeter all to get them to go to your website for more information," says The MiniBrochure.com Manager Austin Aguirre. "The Mini Brochure is a snapshot of your website; a snapshot of your business. It replaces your business card and all other print collateral you would leave behind with a potential customer. It tells them all they need to know to be interested in your business." TheMiniBrochure.com opened doors in Utah in 1999, evolving from a printing facility to a marketing company focused on helping today's businesses follow the trend of more information in less time, while also giving them the ability to be kind to the environment.
"We put so much thought and effort into creating a website that validates what we do," says Theresa Jacobson, business coach and co-founder of Success Principles for Life, LLC. "With The Mini Brochure we can replicate the highlights on a professional marketing piece with a lot of pop. People tell me they leave it on their desk - rather than file it away in their Rolodexes - and find themselves picking it up to look at it over and over again because it's such a unique brochure."
Jacobson's husband, Jake, is having a Mini Brochure designed for his medical management consulting company and their son Sam Jacobson uses one for his AllState Insurance business as well.
Even cell phone companies are trying to churn the green machine by creating applications that will gather contact information from anyone in a room who also has the app and is offering it. This begs two important questions: Who will gather personal contact information from phones whose users forget to turn off the application? And, can a virtual information collector take the place of a face-to-face greeting and a handshake?
"It may be a crutch, but the old calling card still gives you a reason to approach a potential client," added Aguirre. "You want something to leave with them and The Mini Brochure has more retain-ability than any business card or bulky brochure and by presenting it, you won't get lost in a faceless cell phone database. We guide clients on the best information to put on their Mini Brochure. From sporting teams and photographers to restaurants and salons who put coupons on the back page, our customers always come back for more. It's the most valuable print collateral they've ever had and feel it's perfect for meetings, counter tops, and trade shows."
For more information and free Samples visit: http://www.TheMiniBrochure.com.
###