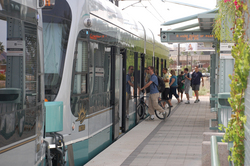 Tempe, Ariz. (Vocus) March 11, 2010
These days, we're all trying to go green. From light rail to biking to an urban garden, Tempe, Arizona is striding towards becoming a more sustainable community. Students, staff and faculty at Arizona State University Tempe Campus are also implementing initiatives across campus to reduce their carbon footprint now and in the future.
Listed below are just a few of the green programs in Tempe.
Arizona's First Urban Garden
Salad fixings and more will sprout from a formerly empty lot in downtown Tempe soon. The first of its kind in Arizona, Tempe's Urban Garden is creating a new use for a vacant lot by providing a sustainable food source for local Valley chefs and the community at large. Local chefs will be able to use ingredients from the garden in their restaurants. Items grown in the garden will also be available at downtown Tempe's Thursday Night Market each week. The garden is a partnership between the Downtown Tempe Community (DTC), GreenZona, GroWell Arizona, Desert Appeal and Caffe Boa's Chef Payton Curry.
METRO light rail
Tempe is located in Metropolitan Phoenix area. Until recently, it was almost impossible to travel to Tempe or Phoenix and not have a rental car. METRO light rail has changed that. METRO connects downtown Phoenix, downtown Tempe, Mesa and the airport. In 2009, METRO light rail provided service to more than 11.3 million riders. Ridership has far exceeded first-year projections by 34 percent on weekdays, 33 percent on Saturdays and 61percent on Sundays and holidays. Tickets are $1.75 one way or $3.50 for an all day pass.
Tempe Transportation Center
Tempe has an extensive public transportation system, providing options for free and low cost travel throughout the city. The heart of the operations is the Tempe Transportation Center, a multi-use facility that integrates a METRO light rail stop, the city's main bus station and the Bicycle Cellar, a full-service bicycle commuter facility with secure bicycle parking, showers, lockers, bicycle sales and rentals.
The U.S. Environmental Protection Agency (EPA) recently awarded a Smart Growth Achievement Award to the City of Tempe for the Transportation Center. The EPA honored the facility as a model for sustainable design and a vibrant, mixed-use regional transportation hub that incorporates innovative and green building elements tailored to the desert environment. The City of Tempe is also seeking LEED Platinum certification by the U.S. Green Building Council.
Bicycling in Tempe
There are approximately 170 miles of bike paths in Tempe, making it easy to navigate the city on two wheels. The City of Tempe Transportation Program, Tempe in Motion, recently received an award from the Clean Air Campaign for its comprehensive bicycle program. The Clean Air Awards recognize the best clean air and alternative transportation programs in Maricopa County, Arizona.
Tempe just completed the construction of the six-mile Western Canal multi-use path. The path includes two unique pedestrian beacon signals called high-intensity activated crosswalks (or HAWKs) that make is easier for pedestrians, bicyclists and other path users to cross main streets, while minimizing the wait time for motorists.
The Tempe Action Bicycle Group is a 501(c) 3 nonprofit organization working to make bicycling a prominent, safe and convenient form of transportation and recreation. In addition to being a resource and advocacy group for bikers in Tempe, they provide free bike valet services for major events in the downtown area. Similar to a coat check for bicycles, cyclists leave their bike with volunteers who park them in a secure, fenced area near the event entrance. The bikes are kept under constant watch by our dedicated volunteers. This convenient service is free for bicyclists.
Sustainability at Arizona State University
Arizona State University (ASU) began the first School of Sustainability in the nation in 2007. This school gives students the opportunity to earn a bachelor's, master's or doctoral degree in sustainability and focuses on real world solutions to environmental, economic and social challenges. ASU is the largest university in the U.S. and has plans to become a carbon neutral campus by 2025. There are initiatives campus wide to reach this goal, including reducing energy consumption, harvesting food grown on campus, using low flow water fixtures, utilizing solar power plants for energy and an extensive campus recycling program.
Located on the ASU Campus, The Engrained Café, managed by ARAMARK, offers an opportunity for patrons to engage in sustainable dining through a living-learning restaurant. Engrained is committed to using environmentally-friendly practices and locally grown food including organic produce, Fair-Trade coffee, cage-free eggs and chicken, free-range beef and sustainable seafood. Patrons are connected with the farms from which their food was harvested, receive tips on ways they can change their day-to-day behavior and make a positive impact. Engrained incorporated a variety of green building components into the build-out of the restaurant such as Energy Star equipment, chairs made from recycled seat belts, recycled glass tiles, Arizona sandstone, and other furniture and fixtures made from rapidly renewable resources.
For more information about Tempe's environmentally-friendly practices, visit the Tempe Convention and Visitors Bureau or the City of Tempe Green Programs Web pages.
# # #