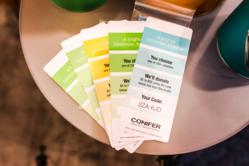 ExpoGiving provides exhibitors with a superior engagement tool without contributing to the incredible amount of waste headed to the landfill.
Seattle, WA (PRWEB) May 30, 2013
Charity gift card provider TisBest Philanthropy has a new cause marketing product aimed at helping green-minded businesses engage with booth visitors at trade shows. Rather than give away trinkets, freebies and marketing materials destined for the landfill, exhibiting companies can use TisBest's ExpoGiving to invite booth visitors to make a charitable donation to the cause of their choice using the exhibitor's money.
This non-material marketing solution replaces traditional booth swag such as key chains and pens, and helps to offset the massive amount of trash created by trade shows each year. According to a report from Smash Hit Displays, the industry creates 1 billion pounds of trash annually, making trade shows the second-highest waste producing industry in the country.
"Trade shows, expos and conventions create an average of 20 pounds of trash for each person who attends," said Jon Siegel, TisBest Executive Director. "This number is staggering. ExpoGiving provides exhibitors with a superior engagement tool without contributing to the incredible amount of waste headed to the landfill."
Expanding on TisBest's traditional charity gift card model, ExpoGiving allows booth visitors to forward funds to their favorite charity from the trade show booth, using portions of a single, large charitable donation made by the exhibiting business. Each booth visitor is provided with a giving code, which is used to reserve a portion of the exhibitor's charitable donation for the booth visitor's charity choice.
"The process is surprisingly simple," said Siegel, "and fits nicely with a company's corporate social responsibility (CSR) objectives. Using a laptop or tablet provided by the exhibiting company, the booth visitor selects a charity to support from TisBest's list of over 300 charity partners. Once they enter their giving code, the portion of funds dedicated to that code will be forwarded to the charity they chose to support."
Siegel reports that the entire process takes each visitor about two minutes to complete and offers the exhibiting company a tremendous opportunity to interact with the customer.
"We've found that authentic conversations about the exhibiting business naturally follow the charity selection process, and give both the exhibitor and the customer an opportunity to learn about each other."
Cause marketing, such as Yoplait's famous "Save Lids to Save Lives" breast cancer campaign, has been a successful marketing choice for many companies. ExpoGiving allows businesses of all sizes to integrate a meaningful cause marketing element to their trade show booth, while avoiding the expense of meaningless trade show trinkets to draw visitors into the booth. The eco-friendly result helps funnel marketing dollars away from the landfill to worthy causes chosen by the booth visitors.
For more information about ExpoGiving visit http://www.tisbest.org/expogiving.
About TisBest
TisBest Philanthropy is a 501(c)(3) nonprofit organization dedicated to fostering the growth of non-material gift-giving. TisBest created charity gift cards in 2007. Charity gift cards work like conventional gift cards, but with one important exception: the recipient of a charity gift card "spends" it by choosing a charity to receive the funds.
With a TisBest Charity Gift Card, you make the donation and your recipient decides how to spend the donation, choosing from TisBest's 300+ charity partners. Learn more at http://www.tisbest.org.