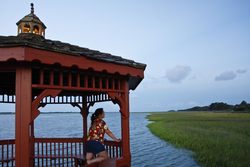 We all -- being human -- want to breathe air, eat food and be in places free of toxins. It just makes good sense. Who wouldn't want to go green?
St. Augustine, FL (PRWEB) August 5, 2008
When green travel writer, Jennifer Conlin wanted to research an article for her NY Times column, she turned to Dana G. Mayer, founder of Eco Luxury Lodging for insights about green vacation rentals. In the article, Mayer explained the growing appeal of green travel, "We all -- being human -- want to breathe air, eat food and be in places free of toxins. It just makes good sense. Who wouldn't want to go green?"
"Green travel is popular for three simple reasons: you can tread lightly; live better; and help spread the word. By making a choice about the businesses they support, guests can protect the natural places of beauty they enjoy while reducing greenhouse gas emissions and reducing waste. But it isn't all about the planet. You live better when you reduce stress and improve your sense of well-being by limiting your exposure to noise and toxins. Green practices also protect family members with asthma, allergies and environmental sensitivities."
Eco Luxury Lodging vacation rentals in Florida, Arizona and Norway were greenovated to maximize health, minimize toxins and environmental impact. The company has a green policy which demonstrates Mayer has done more than greenwash her vacation rentals. "Green means a healthy home, healthy for guests and the planet. It is not as simple as putting out a recycling bin and asking guests to conserve water. Going for the green takes more than fluorescent light bulbs."
Part of that commitment means giving guests a place to experience luxury and sustainable living. The guest homes serve as learning labs to demonstrate energy, water and resource efficiency can be easy. Mayer hopes the Eco Luxury Lodging homes will encourage people to follow her example. She wants people to see that it's not only about the health of the planet, healthy homes benefit guests not just nature. Levels of air pollution inside private homes can be two to five times higher, and as much as 100 times higher, than outdoor levels, reports the EPA. And the ill effects from indoor pollutants may be experienced year after exposure. Asthma alone accounts for 14 million missed school days annually. (CDC&P)
Eco Stats:

Sited to avoid ecologically sensitive areas and provide habitats for wildlife.
Aesthetically enriching: Designed to avoid noise and visual and electrical nuisances.
Solar powered.
Sited to maximize fresh air and natural light. Shaded to minimize heat in summer months.
Furnished with reclaimed, recycled, and natural materials that do not emit VOCs or other toxins.
Hypoallergenic environments: tile floors throughout, dust mite covered bedding, smoke, chemical, and dander free.
Support local artisans and suppliers when furnishing, maintaining, and remodeling.
The article was also picked up by regional papers which ran the feature on, July 30, 2008. Details in the article available on the NY Times website and in the Atlanta Journal Constitution.
For additional information on the news that is the subject of this release contact Dana G. Mayer, owner.
About EcoLuxury:
Luxury green vacation rentals in St. Augustine, FL, Arizona, and Norway. Member Green Vacation Hub, certified Wildlife Habitats
Contact:
Dana Ghermine Mayer, Owner
410-562-2281
http://www.ecoluxurylodging.com
Delray Beach, FL 33483
###