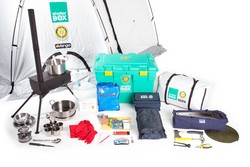 This year alone, we have provided shelter, warmth and dignity for up to 200,000 people in 11 disasters.
Lakewood Ranch, FL (Vocus) June 12, 2010
ShelterBox USA will celebrate its inaugural Big Green Box Week June 12-19. Designed to bring awareness to how ShelterBox provides shelter, warmth and dignity to thousands of disaster survivors worldwide, the nonprofit encourages individuals of all ages throughout the U.S. and around the world to help support its cause.
Ways to get involved include: 1) Wear green throughout the week and tell all your friends and family about how ShelterBox saves lives; 2) Whether you're part of a community group, business owner or an individual who wants to get involved, hold a fundraiser in your community; and 3) Make a donation.
At ShelterBox USA's headquarters in the Sarasota/Manatee, Florida area, the community can also help by supporting its local business partners, which will donate a portion of their proceeds back to the disaster relief charity. These businesses include Barbara McSweeney fine fashion jewelry designer, Cosimo's Brick Oven and Cosimo's Too, Simply Spoiled Boutique and Sweet. A Chocolate Bistro. Other sponsors include Spotlight Graphics, SRQ Magazine and 107.9 WSRZ.
"This year has been very busy for our organization," said Veronica Brandon Miller, executive director for ShelterBox USA. "Big Green Box Week will be a celebration for the incredibly impactful work which ShelterBox carries out every day. This year alone, we have provided shelter, warmth and dignity for up to 200,000 people in 11 disasters."
Go to http://www.shelterboxusa.org for more details and other ways to support ShelterBox USA during Big Green Box Week.
About ShelterBox
Since its inception in 2000, ShelterBox (http://www.shelterboxusa.org) has provided shelter and dignity following over 100 disasters in more than 70 countries, bringing the organization to the forefront of international disaster relief. ShelterBox instantly responds to earthquake, volcano, flood, hurricane, cyclone, tsunami or conflict by delivering boxes of aid. In many cases, ShelterBoxes have made the difference between life and death.
Each ShelterBox supplies an extended family of up to 10 people with a tent and lifesaving equipment to use while they are displaced or homeless. The contents are tailored depending on the nature and location of the disaster, with great care taken sourcing every item to ensure it is robust enough to be of lasting value. Highly trained ShelterBox Response Teams (SRTs) distribute boxes on the ground, working closely with local organizations, international aid agencies and Rotary clubs worldwide.
###