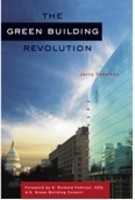 This is just the beginning.
Tucson, AZ (PRWEB) November 1, 2007
With the number of LEED-registered and LEED-certified green building projects increasing at rates approaching 70-80% year-over-year, the new book by leading green building consultant, Jerry Yudelson entitled "The Green Building Revolution" shows why this trend has become a "revolution." Yudelson's book not only chronicles the dimensions of this growth, but provides its manifesto as well.
The new book from Island Press (http://www.islandpress.org) will be launched at the upcoming Greenbuild conference in Chicago (http://www.greenbuildexpo.org/), including a special book signing on Wednesday, November 7th, 2007 between 12 noon and 1:00 p.m. It will also become available for sale for the first time at the Island Press booth at Greenbuild and online ($25.00 for paperback, $50.00 for cloth). The Foreword to "The Green Building Revolution" is written by S. Richard Fedrizzi, CEO, U.S. Green Building Council.
"The Green Building Revolution" introduces readers to the basics of green building and to the projects and people that are advancing this movement. With more than 30 interviews and case studies, this green building book shows readers why and how to start thinking about designing, building, and operating high-performance, environmentally aware (LEED-certified) buildings on conventional budgets.
Yudelson asserts that this green building movement has reached a critical mass of architects, engineers, builders, developers, professionals in government, and consumers. He says, "Green buildings are showing us how we can have healthier indoor environments that use far less energy and water than conventional buildings do. The federal government, twenty states, and more than sixty U.S. cities already require new public buildings to meet green standards." According to Yudelson, "This is just the beginning."
The scope of "The Green Building Revolution," as Yudelson describes it, now includes commercial buildings, schools, universities, public buildings, health care institutions, housing, retail, hospitality, interior design, property management, and neighborhood design. Illustrated with more than 50 photos, tables, and charts, and filled with timely information, "The Green Building Revolution" is the definitive description of a major movement that's already begun to transform our world.
About Jerry Yudelson
Jerry Yudelson, is a leading green building consultant and national authority on green buildings and corporate sustainability, with four books on green buildings and more than three dozen magazine and newsletter articles to his credit during the past three years.. He is also the senior editor of the web site, http://www.igreenbuild.com , where he writes a monthly column. Mr. Yudelson is a former Board Member of the U.S. Green Building Council, a national nonprofit with some 10,000 corporate, agency and institutional members. He has trained more than 3,000 people in the LEED green building assessment framework since 2001, and he served on two national committees developing the next generation of green building standards.
About the Green Building Consulting firm, Yudelson Associates
Yudelson Associates, Tucson, AZ, http://www.greenbuildconsult.com , is a green building consulting company dedicated to "growing the business of green building" and facilitating sustainability initiatives in higher education and the corporate world. Yudelson Associates offers project-specific green building consulting services, green building marketing consulting, workshops, keynote speaking, and corporate or institutional sustainability planning.
###