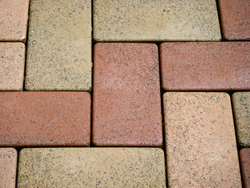 VAST has won four awards in 2009 because green building professionals and technology experts are recognizing the significance of VAST's scientific breakthrough.
Minneapolis (PRWEB) December 8, 2009
VAST® Enterprises, LLC announced that VAST Composite Pavers have won a 2009 ED+C Readers' Choice Award in the online contest sponsored by Environmental Design + Construction (ED+C) and Sustainable Facility magazines. The awards honor green building products that best combine sustainable attributes with ease of use and installation. VAST was voted #1 in the Exterior Products/Design category. The VAST product line includes VAST Composite Landscape Pavers, VAST Composite Permeable Pavers for stormwater management, VAST Composite Deck Pavers, and VAST Composite Thin Brick. All VAST products are made from VAST's engineered composite material that consists of a proprietary blend of up to 95 percent recycled car tires and plastic containers.
"VAST has won four awards in 2009 because green building professionals and technology experts are recognizing the significance of VAST's scientific breakthrough," said Steve Smith, president, VAST Enterprises, LLC. "VAST has engineered the world's first composite material consisting of 95 percent recyclables that combines the strength, durability and visual appeal to replace molded concrete and clay brick in landscape and hardscape applications."
In August 2009, VAST Composite Permeable Pavers won an EcoHome Editors' Choice Award. This magazine's annual awards recognize innovation and leadership in green building by honoring the top ten earth-friendly products. With an independently tested infiltration rate of more than 400 inches per hour (when installed on an open-graded base), VAST Composite Permeable Pavers moderate the volume and velocity of storm water runoff from parking lots, walkways, building entrances, driveways, sidewalks, terraces and patios.
VAST Enterprises also took two Tekne Awards in October 2009. The Tekne Awards, sponsored by the Minnesota High Tech Association, honor Minnesota companies for innovation and leadership in technology. VAST won the Cleantech Award, which goes to a manufacturer of environmentally sound products that reduce costs, inputs, energy consumption, waste or pollution. VAST also won the Innovative Collaboration of the Year Award in partnership with Fabcon, Inc. for launching the first precast wall panel with a composite masonry thin brick face.
"Our composite masonry material gives VAST pavers deep colors, excellent slip resistance, unbeatable strength and unmatched durability -- all at one-third the weight of concrete pavers," said Andy Vander Woude, LEED AP, chief executive officer, VAST Enterprises. "Our engineered solution includes the VAST grid system that makes it easier and faster for professional contractors to install our pavers. When the pavers are inserted into the grid, they are automatically spaced and aligned."
"VAST Composite Pavers are good-looking and complement a range of architectural styles. With the weight advantage of VAST pavers and the grid system, our skilled installers achieve excellent results in less time," said Jarlath Dorney, president, Claddagh Paving, Inc., Fallbrook, Calif. "And VAST Composite Pavers can contribute to six LEED credits. That's two to three times more credits than any other paver. That makes them a perfect fit for LEED projects."
"The VAST material is great to work with: easy to carry, easy to cut and easy on your hands," said Marc Green, Custom Copper and Slate, Ltd., Medfield, Mass. "We found out that with VAST we can reduce paver installation time by half."
"VAST Composite Pavers are a premium product. With the VAST grid system we save so much time and labor that we can bid an installed price that's comparable to using other materials," said Bill Barton, All Seasons Building Company, Burnsville, Minn. "Our customers can put more of their project budget into a high-quality, first-rate material. And the style and colors of VAST give us interesting design possibilities for commercial and residential projects."
VAST Enterprises, LLC
VAST applies its patented technology to transform recycled materials into a new resource for green building: composite masonry. VAST composite products -- including landscape pavers, permeable pavers for stormwater management, deck pavers and thin brick -- offer an engineered alternative to molded concrete and clay brick. VAST meets the most demanding requirements for aesthetics, durability, sustainability and installation efficiency. Award-winning VAST pavers deliver rich colors, superior slip resistance and unbeatable strength at one-third the weight of concrete pavers. VAST can contribute to more LEED® credits than any other paver. Today, every 5,000-square foot VAST landscape installation keeps 2,500 scrap automobile tires and 75,000 plastic containers out of U.S. landfills. Tomorrow? The Future is VAST™. Learn more at vastpavers.com. Then call (612) 234-8958.
LEED® (Leadership in Energy and Environmental Design) is registered trademark of the U.S. Green Building Council.
###