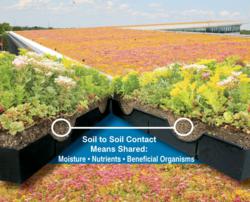 LiveRoof maximizes roof membrane protection, building energy savings, environmental benefits, and rooftop beauty
Spring Lake, MI and Athens, GA (PRWEB) February 17, 2012
LiveRoof®, LLC, the top horticultural science company in the green roof industry, announced the addition of a new distributor in Georgia. LiveRoof has appointed James Greenhouses, Athens, Ga., as a new licensed regional grower and distributor for the LiveRoof® Hybrid Green Roof System.
"The Georgia Commercial Energy Code recognizes the cooling effect of green roofs. This gives architects and engineers greater flexibility for determining how to best achieve energy efficiency in commercial building projects," said Dave MacKenzie, horticulturalist and president, LiveRoof, LLC. "Official recognition of the insulation value of green roofs — combined with their proven benefits for stormwater management and extending the service life of waterproof membranes — is increasing the demand for green roofs in Georgia."
"Ken and Leah James are both horticulture graduates from the University of Georgia and maintain close ties to the College of Agricultural and Environmental Sciences," said Amber Poncé, business development manager, LiveRoof, LLC. "Their dedication to plant research makes them an innovation leader. Their adoption of lean production technologies makes them an efficient producer."
"The LiveRoof Hybrid Green Roof System is the only green roof solution developed by horticulturalists. It is designed to establish a green roof as a naturally functioning ecosystem on the rooftop," said Ken James, president, James Greenhouses. "LiveRoof understands how to make a green roof function for immediate success and long-term trouble-free maintenance. LiveRoof's advanced design maximizes roof membrane protection, building energy savings, environmental benefits, and rooftop beauty."
LiveRoof, LLC is the only national green roof company with an extensive network of more than 20 licensed regional growers across the U.S. and Canada. LiveRoof growers apply regional horticulture expertise, knowledge of local plant biology, and understanding of specific microclimates to develop customized plant palettes to meet the particular requirements and aesthetic goals of every green roof project.
Other recent additions to LiveRoof's network of licensed regional growers include: Pépinière Premier Plant, Saint-Sulpice, Quebec, Canada; Joss Growers, Inc., Georgetown Texas; and Rocky Mountain Green Roofs, Inc., Denver, Colo.
About James Greenhouses
James Greenhouses was founded in 1998 with a simple idea: to produce high-quality perennial plugs and liners for Southern growers. Located in rural Colbert, Georgia, just outside of Athens, James Greenhouses grows in clean, modern facilities designed for propagation. In its 70,000 square feet of production space, James Greenhouses utilizes mist booms, under-bench hot water heat, sub-irrigation, naturally ventilated houses, and computerized environmental controls — all designed to keep quality up and costs down. James Greenhouses produces 300 varieties of perennials and specialty annuals. Visit http://www.jamesgreenhouses.com or call 888-332-1826 for more detail.
About LiveRoof®, LLC
The LiveRoof® Hybrid Green Roof System (http://www.liveroof.com) is the industry's most refined horticultural solution. LiveRoof modules establish a healthy, sustainable ecosystem on the rooftop to maximize membrane protection, energy savings, environmental benefits, and rooftop aesthetics. Licensed regional growers customize plant selection for every LiveRoof project, and they deliver the modules abundantly vegetated with regionally adapted, locally cultivated plants that are full-grown, thriving, and ready for the rigors of the rooftop. LiveRoof is simple to install. When installed, LiveRoof is an instant green roof, already flourishing for immediate success and years of trouble-free maintenance. LiveRoof's natural function and natural beauty offer the highest level of green roof performance at the lowest level of total ownership costs. The proof is on the roof — showcased in over 600 LiveRoof installations that total more than two million square feet.
###