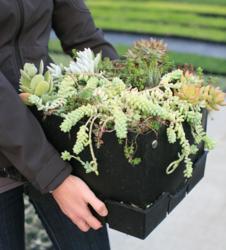 With six to eight inches of soil, LiveRoof supports a broader variety of plants, such as drought-tolerant grasses
Spring Lake, MI (PRWEB) November 30, 2011
LiveRoof, LLC, the top horticultural science company in the green roof industry, announced the introduction of LiveRoof® Maxx, a new module option for the LiveRoof® Hybrid Green Roof System. The LiveRoof Maxx module (1 foot x 1 foot x 3¼ inches) is for extensive green roofs with soil depths of up to eight inches.
"LiveRoof Maxx meets the requirements of codes and regulations that call for eight inches of planting medium," said Dave MacKenzie, horticulturalist and president, LiveRoof, LLC. "In addition, with its one square foot size, Maxx modules are practical and convenient for small vegetable, herb or flower gardens on the balconies and rooftop patios of apartment and condo buildings."
"LiveRoof supports a broader variety of plants in six to eight inches of soil. These include taller and more dramatic plants, such as drought-tolerant grasses, and native and adapted non-native perennials, like Coneflower, Coreopsis and Aster," said Andy Sudbrock, plant ecologist and general manager, Southeast Green Roofs, LLC. "Greater plant variety enhances green roof applications and benefits, especially for habitat enrichment and increased biodiversity." (Based in the Nashville, Tenn. area, Southeast Green Roofs is a member of LiveRoof's national network of licensed regional growers and distributes LiveRoof in Tennessee, Kentucky, and the Southeast.)
"The new Maxx module for LiveRoof expands plant palettes suitable for arid climates," said David Fross, president, Native Sons, Inc. "That makes green roofs more practical in the hotter, drier portions of California and the Southwest, where the thermal performance of green roofs is especially beneficial for reducing energy use and costs for cooling." (Native Sons, Inc., Arroyo Grande, Calif., is a member of LiveRoof's national network of licensed regional growers and one of the distributors for LiveRoof in California.)
LiveRoof Maxx is part of the complete line of module options for the LiveRoof Hybrid Green Roof System: LiveRoof Lite (2½-inch spoil depth), LiveRoof Standard (4¼-inch spoil depth), LiveRoof Deep (6-inch soil depth), and LiveRoof Maxx (8-inch soil depth). All LiveRoof modules feature LiveRoof's patent-pending Soil Elevator™ and Moisture Portal™, innovations which establish a LiveRoof green roof as a unified, naturally functioning ecosystem.
The Soil Elevator, a removable insert, lines the inside of modules so soil can be filled above the top. When the modules are installed side-by-side, and the Soil Elevators are removed, an uninterrupted layer of soil and vegetative surface then extends across the entire rooftop. The Moisture Portal™ is an opening on the sides of the modules and establishes soil-to-soil contact between them. Plant roots are free to grow in a natural way from one module to the next. Water, nutrients and beneficial organisms are shared between modules.
Whichever module option is right for the requirements of a particular project, licensed regional growers in LiveRoof's national network deliver the system to project sites with modules fully vegetated with regionally adapted, locally grown plants that are mature and flourishing. When a LiveRoof is installed, the plants are already full-grown and ready for the rigors of the rooftop. A LiveRoof is an instant green roof — no waiting for two or three years to determine whether the plants will survive, grow to maturity, and fill in to establish a green roof.
LiveRoof®, LLC
LiveRoof, LLC (http://www.liveroof.com) is the horticultural science company that developed the LiveRoof® Hybrid System: the only green roof solution installed as a naturally functioning ecosystem with thriving, fully mature plants. Combining the best elements of proven green roof technologies, LiveRoof establishes a seamless vegetative surface rooted in a continuous layer of soil. This design maximizes environmental benefits, energy savings and rooftop aesthetics. Regional growers in its national network adapt LiveRoof plants for local conditions and customize plant selection for every project. LiveRoof's natural function and natural beauty offer the highest level of green roof performance at the lowest level of acquisition-installation-maturation-maintenance costs. The proof is on the roof — showcased in LiveRoof projects that stand out as signature elements on commercial, public, university and school buildings in more than two dozen states and Canada.
###