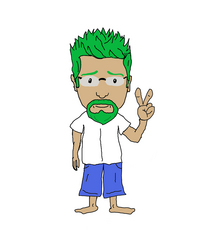 Green Dan Says gives us a clear and concise understanding of what renewable energy is and its importance to our future. This book is educational for all ages and is fun to read as well. David Carr - Alternative Energy Institute
Canyon Lake, TX (PRWEB) April 6, 2010
Renewable energy enthusiast and author Dan Marsh writes his first book in a series of at least 10 on the subject of renewable energy in a fresh, easy to understand manner. Children of all ages will be asking "When is the next book coming out?" 'Green Dan Says! "Renewable Energy is Cool"' is written for 4th graders & higher and includes fun facts, beautiful full color photo's and hand colored drawings from a 4th grader.
Dan's passion for renewable energy and his drive to educate children really shows in this first book. "Renewable Energy is Cool" introduces kids starting at the 4th grade level to all the different types of renewable energy. The 'Green Dan Says!' series of books is intended to spark an interest in children regarding renewable energy, but first talks about energy conservation, followed by the negative effects which fossil fuels have on the planet.
Renewable energy's introduced in the book include wind power, (PV) photovoltaics, geothermal, solar hot water, hydroelectric dams, tidal power, wave power and biomass.
Here is what others have said about 'Green Dan Says! "Renewable Energy is Cool'.
"Dan has done a great job making the complex, important issue of renewable energy accessible to elementary students" -- Michael Sandle, Fourth Grade Science, Rebecca Creek Elementary.
"Dan provides a good introduction to energy concepts and terms that will be essential elements of every child's future throughout their youth and beyond. The visuals will help them begin to spot renewable energy at work, in their travels and in their everyday lives." -- Russel E. Smith, Executive Director, Texas Renewable Energy Industries Association.
###