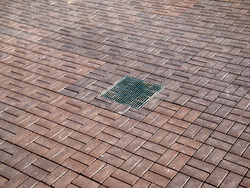 The selection of VAST Permeable Composite Pavers as one of the year's ten best green building products confirms that our composite masonry products are engineered to be green and more than green
Minneapolis, MN (PRWEB) September 15, 2009
VAST® Enterprises, LLC announced that VAST® Permeable Composite Pavers have won a 2009 EcoHome Editors' Choice Award. The magazine's annual awards recognize innovation and leadership in green building by honoring the industry's ten most outstanding earth-friendly products. VAST pavers are manufactured with the company's composite material that consists of up to 95 percent recycled auto tires and plastic containers. With an independently tested infiltration rate of more than 400 inches per hour (when installed on an open-graded base), VAST Permeable Composite Pavers moderate the volume and velocity of storm water runoff from parking lots, walkways, building entrances, driveways, sidewalks, terraces and patios. At one-third the weight of permeable concrete pavers, VAST Permeable Composite Pavers are also ideal for rooftop applications.
"The selection of VAST Permeable Composite Pavers as one of the year's ten best green building products confirms that our composite masonry products are engineered to be green and more than green," said Andy Vander Woude, chief executive officer, VAST Enterprises, LLC. "We design them to be superior to the traditional building materials they replace."
With its patented material science technology, VAST Enterprises turns post-consumer recycled rubber and plastics into an eco-friendly material: composite masonry. VAST has achieved a scientific breakthrough with its proprietary process by engineering the world's first composite material with up to 95 percent recycled content that has the strength, durability and aesthetic quality for landscaping and hardscaping. In addition to VAST Permeable Composite Pavers for stormwater management, VAST composite masonry products include VAST Composite Landscape Pavers, VAST Composite Deck Pavers that bring the style and look of pavers up onto decks, and VAST Brick Wall Fascia.
"VAST Composite Pavers offer rich colors, excellent slip resistance, unbeatable strength and unmatched durability -- all at one-third the weight of traditional concrete pavers," said Vander Woude. "And installations of VAST Composite Pavers to date have diverted more than 2.5 million pounds of tires and plastics from U.S. landfills."
EcoHome, published by Hanley Wood, LLC, helps builders, remodelers, designers and product specifiers compete in the green building market by delivering clear, accurate and actionable content on green building products and product trends, technical innovations and building science. EcoHome is the professional's source for the products and practices that contribute to high-quality, practical and long-lasting sustainable building projects. The annual Editor's Choice Awards highlight the top ten eco-friendly building products that bring new choices and smart solutions for addressing water and resource conservation, energy efficiency, indoor air quality and site design.
VAST Enterprises, LLC
VAST applies its patented technology to transform recycled materials into a new resource for green building: composite masonry. VAST composite products -- including landscape pavers, deck pavers and brick wall fascia -- offer an engineered alternative to both molded concrete and clay brick. VAST meets the most demanding requirements for aesthetics, durability, sustainability and installation efficiency. Available in standard and permeable versions for stormwater management, VAST pavers can contribute to more LEED® credits than any other paver. Today, every 5,000-square foot VAST landscape application keeps 2,500 scrap automobile tires and 75,000 plastic containers out of U.S. landfills. Tomorrow? The Future is VAST™. Learn more at vastpavers.com. Then call (612) 234-8958.
LEED® (Leadership in Energy and Environmental Design) is registered trademark of the U.S. Green Building Council
###