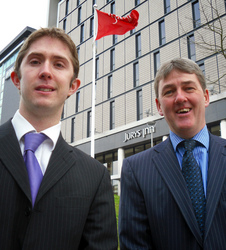 "Those hoteliers that have embraced environmental management and used green marketing to build a competitive advantage are not only increasing market share but also saving money." Leigh Tymms, Director, Green Edge
(PRWeb UK) February 6, 2011
A recent study of independent hotels in the UK has shown a widespread reluctance to exploit green marketing opportunities and a failure to respond to the advantages offered by the Green Tourism Business Scheme (GTBS). Green Edge - which specialises in environmental management and green marketing – contacted independent hotel owners and decisions makers from the leading chains. Their findings indicate a widespread lethargy towards environmental issues from many in the industry and that most hotels were being slow to see the benefits of attaining a Green Tourism Business Scheme (GTBS) award.
In conducting their study, Green Edge made contact with over 200 hoteliers and personally met with nearly 40 of these. The results indicated that approximately half of the respondents had not given much thought to how they might increase their revenues or gain a competitive advantage by improving their environmental management and appealing to a wider green market. Many of the hotel decision makers primarily saw the benefits as being limited to achieving cost savings – often through changing lighting or laundry practices. There were even some who were just 'not interested', or as one hotelier put it, 'we're too busy running the business to consider the GTBS or the environment'.
The GTBS is the national sustainable tourism certification scheme for the UK and was started in 1997. It claims to be the largest of its kind in the world with over 2000 members registered in the scheme and around 500 hotels having achieved awards so far - plus another 60 or so awaiting grading. However, as Green Edge point out, there are more than 17,000 hotels in the UK, so what is stopping more from engaging with this programme.
Comments from hoteliers contacted by Green Edge were extremely enlightening and some a little worrying. One small family hotelier said "we are not at all interested in the Green Tourism Award, have no environmental policies and doubt we ever will have". Another larger hotel said they "had not heard of the GTBS and were not interested in anything to do with the environment"; and a medium sized hotel group excused its lack of interest in the GTBS by saying "we have been spending budget on other things and will not consider looking at it for a good 12 months"
Leigh Tymms is one of the directors of Green Edge responsible for the study. He has sympathy with hotels like these but believes they are failing to see and exploit the real opportunities offered by the GTBS. "The hospitality industry has obviously felt the effects of recession and hotels are fighting to keep occupancy levels at barely adequate levels. For many, this has meant belt tightening; and our study showed that many mistakenly believe that environmental responsibility comes at a cost. The reality is that they cannot afford to ignore it. Those hoteliers that have embraced environmental management and used green marketing to build a competitive advantage are not only increasing market share but also saving money."
Interestingly, Leigh points out that at almost all the hotels they visited, managers and other staff were genuinely excited about the potential to reduce the environmental impact of their operations and deliver a positive message for their customers. "They REALLY wanted to do it," said Leigh. "For independent hotels and those marketed or franchised under one of the big chain brands the drawback was often that significant decisions were usually made by the owner or owners (many of whom apparently lived abroad); and the owners always said no! The reasons generally given for this included 'lack of time', 'low prioritisation' or 'unwillingness to make an upfront investment – even if there was a clear ROI'".
Green Edge point to existing data to highlight why such negative thinking is dangerous. ""One survey by Devon Council showed that many guests consider environmental issues when booking and that three quarters think a green business is likely to be more quality conscious," explained Leigh; "while a Travelocity report, stated that 80% of travellers are willing to pay extra to visit an eco-friendly destination or business. So greener rooms can translate into real bottom line profits."
Tom Whelan another Green Edge director pointed out that despite some negative responses, their review also highlighted a number of positives. "Many hotels have really committed to going green and are reaping the benefits accordingly. Some hotel chains, including Apex and Jury's Inn, are doing exceptionally well in winning awards. While independent examples such as Battlesteads near Hexham, and Strattons in Norfolk have not just won awards but also used them to benefit commercially – both by reducing costs and increasing occupancy."
Binghams in Richmond are a cases study on the GTBS web site. They believe that "Greening is essential to win new business clients," and their clients including local companies Google, e-bay, PepsiCo and Coca Cola, obviously agree. Having noted that "customers respond well to the hotel's environmental policy on the website and the new green section on their customer feedback forms" the Bingham is now "planning a more overt green events marketing push"
"In a difficult market," adds Tom, "hotels that see the green light will be better able to reduce costs and increase revenues. Improving environmental management, winning awards and using great schemes like the GTBS to exploit green marketing opportunities are all ways to gain a green and very competitive edge."
You can request an Executive Summary of this report and contact Green Edge for more information via their web site - http://www.yourgreenedge.com.
###