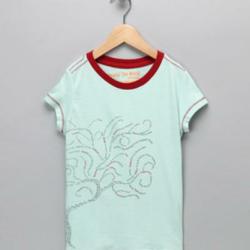 The newly added collection of certified organic cotton clothing for kids is like a breath of fresh air.
Stanton, New Jersey (PRWEB) April 02, 2013
In addition to organic baby and toddler clothing, Moms and Dads shopping for stylish, earth-friendly youth size fashions can now find a savvy selection at http://stylishorganics.com. The spring collection for girls and boys ages 4 to 12 is made from certified organic cotton fabric and uses only eco-friendly dyes. Connecting with nature, this tribute to Mother Earth is showcased on dresses, t-shirts, and tank tops. "The newly added collection of certified organic cotton clothing for kids is like a breath of fresh air," commented Stylish Organics' owner, Lynn Lavanga. "A collaboration of artist and manufacturer, the nature inspired designs of the Dhana™ Ecokids line speaks to our youth and empowers them to carry the message of environmental awareness and the importance of protecting our natural resources."
The collection is just in time for April 22nd - Earth Day. Designed especially for this date, the Earth Day 'Tree' Tee plays on words to get kids thinking green; Rethink, Regenerate, Revive, Respect, Renew, Recycle, Restore, Reuse, Recover, Remember. The beautifully designed tee normally sells for $30 but is being offered for a limited time at a special introductory price of $25. See the Stylish Organics web site for more information.
In the US, the process of certifying a product as organic assures that product has met strict federal standards. Operations that produce and process organic agricultural products must be certified by the United States Department of Agriculture (USDA) accredited certifying agents in order to carry the USDA Organic label. Certification is based on federal standards as established by the National Organic Program (NOP). These standards include criteria for quality, production, growing, storing, packaging, and shipping that disallow use of synthetic or chemical pesticides, fertilizers, hormones, or genetic engineering. Organic growing methods actually replenish the soil and maintain a natural ecological balance. Regulations for organic products prohibit the use of genetically enhanced seeds and toxic fertilizers or pesticides. Cotton growers who use organic methods to grow and harvest cotton benefit the environment by eliminating contaminants to the soil and ground waters.
The benefits of using organic and sustainable fiber clothing far outweigh the slightly higher price. With organic methods, consumers are provided with a purer product eliminating residuals of chemicals on clothing fibers that may cause skin irritations or possibly more serious health problems. Organic Cotton Clothing is a good choice for people with skin allergies or irritations. Extremely soft and breathable in warm weather, it is very comfortable and easy to wear. Considered a no fuss fabric, it is machine washable and dryable or can hang to dry.
Stylish Organics is also offering new Spring eco fashion styles for women and men. Clothing includes items made from organic cotton, bamboo, hemp, and recycled materials.
About Stylish Organics
Stylish Organics is an e-commerce boutique offering a collection of products selected for earth friendly properties from environmentally responsible manufacturers. The company's easy to shop; one-stop-shopping, venue enables those committed to green living to combine savvy styling with earth friendly thinking. Many of their products are made in the USA or are ethically sourced from organizations that globally support women. The boutique is based in Stanton, New Jersey and is available to consumers on-line with shipping provided to locations in the United States and Canada. They can be reached via their website, email - contactus(at)stylishorganics(dot)com or by calling 800.581.6417.