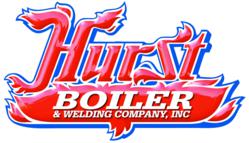 The high turndown Riello burners on our Hurst boilers allow the system to run efficiently down to 10% of full firing rate.
Coolidge, GA (PRWEB) July 12, 2011
St. Elizabeth Hospital, part of Affinity Health System, in Appleton, WI, is one of the few hospitals in the U.S. to achieve an energy performance rating in the top 25 percent of facilities nationwide - earning them the prestigious ENERGY STAR designation from the U.S. Environmental Protection Agency (EPA). Working closely with Affiliated Engineers, Boldt Construction and Tweet/Garot Mechanical to design and install the energy efficient Central Utility Plant, St. Elizabeth's selected the Hurst Boiler Scotch Marine Series 500 system to help them meet their green healthcare initiative goals.
"Our firm conducted a detailed evaluation for Affinity Health System to find the most efficient and reliable boiler systems commercially available," said Mike Sturdivant, Executive Vice President of Tweet/Garot Mechanical, Inc. in a recent press release. "We selected (2) 700 HP Hurst scotch marine, four pass, wetback boilers with high performance Riello burners and integrated plant master controls. This package provided a very competitive first cost, the best efficiency and lowest long term operating cost."
The 500 Series Hurst Boiler 700 HP system delivers on every front. Ron Piotrowski, Plant Operations for St. Elizabeth Hospital stated the "greatest benefit to the hospital is that the boilers run efficiently with very low excess air and our steam pressure doesn't deviate from the 60 PSI set-point." The hospital's old boiler system used to cycle constantly, even in warm weather. "Now, with outside air temperatures nearing 100°F," said Piotrowski, "our 700 HP Hurst Boilers don't even cycle. The high turndown Riello burners on our Hurst boilers allow the system to run efficiently down to 10% of full firing rate." Sturdivant added that the efficient turndown of the primary 700 HP Hurst boilers will negate the need to purchase and install a separate smaller summer boiler, saving the hospital even more money over the long run.
Local Hurst Boiler representative McCotter Energy Systems provided Tweet/Garot Mechanical with design assistance, implementation, and commissioning for the St. Elizabeth Hospital green energy project. President Dan McCotter was pleased to have the opportunity to provide the company's Hurst Boiler 500 Series 'high efficiency Red Boiler Package,' which offers the 'smart energy' benefits of the Riello high efficiency burner and integrated touch screen controls with real-time efficiency monitoring.
Hurst Boiler is proud to be a part of the St. Elizabeth Hospital green healthcare initiative ENERGY STAR rating designation success. For more information about Hurst Boiler high efficiency solutions for green healthcare, visit http://www.hurstboiler.com.
About Hurst Boiler & Welding Company, Inc.
Hurst Boiler & Welding Company, Inc. has been manufacturing, designing, engineering and servicing gas, oil, coal, solid waste, biomass & hybrid fuel-fired steam & hot water boilers since 1967. With installations across all industries worldwide, Hurst Boiler is recognized for the highest code standards, innovative engineering and design, Energy Star rating, and renewable, sustainable solutions for green building design and operational efficiency. Visit http://www.hurstboiler.com or call (877) 994-8778. Watch the Hurst Boiler video on YouTube.
###