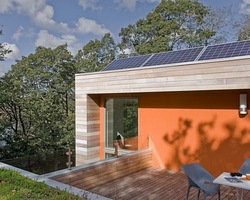 Green home design and building is gaining popularity on Cape Cod.
Cape Cod, MA (PRWEB) February 2, 2010
Cape Associates, a green building contractor, together with ZeroEnergy Design, an architecture and mechanical design firm, recently completed a new modern home in Orleans, Massachusetts – the English Residence.
The lakeside home continues a trend of modern architecture started in the 1950's on outer Cape Cod. In additional to the stunning clean lines, red & orange colors, and outdoor roofdeck, the privately owned property includes many features that make it a very green home.
"To improve energy performance we first made sure the building shell was well insulated and air sealed, helping to conserve energy. Next, only energy efficient systems and appliances were selected. And lastly, renewable energy systems were installed to offset a large portion of the remaining energy requirements each year," said Adam Prince of ZeroEnergy Design. "The result is an ENERGY STAR Certified home with exceptionally low energy consumption."
The house includes a wide variety of green features including solar electric, solar hot water, a living green roof, low flow fixtures and toilets, local and rapidly renewable materials, stormwater management, and a whole house ventilation and allergen filtration system. Together, ZeroEnergy Design as the green architect, and Cape Associates as the green builder, created a healthy, energy efficient home that also earned LEED Gold certification under the LEED for Homes program from the US Green Building Council (USGBC).
"This project was unique, as it was our first to combine both new 7th Edition state building code requirements for construction in a wind borne debris zone (110mph) and LEED practices. As a result, engineered design trumped some LEED efficiencies forcing our team to seek credits in other areas. We embraced the challenge of a 'no-waste' site, and found new ways to reduce, reuse and recycle throughout the project. Much of the project's success can be attributed to the synergy developed early on between the owner, designer and builder. The result was the creation of a beautiful house representing the latest in energy efficient design," said Rich Bryant, Cape Associates Project Manager.
Architect: ZeroEnergy Design
ZeroEnergy Design is an architecture and mechanical engineering firm specializing in high performance new construction and major renovations throughout New England and beyond. Our commitment to innovative and ecologically sensible design is reflected in our multidisciplinary knowledgebase, which spans architecture, mechanical engineering and financial analysis. With this shared expertise, ZED originates designs that are tailored to a client's lifestyle, environmental ideology, and unique sense of style. ZeroEnergy.com
Builder: Cape Associates
Cape Associates, Inc. is a leading provider of custom construction on Cape Cod. Cape Associates was established in 1971 and now employs over 70 year-round, local professionals and expert craftsmen. Green building is just one of many categories characterizing Cape Associates work . From two offices in Eastham and Barnstable, Cape Associates has the scale and expertise to service construction projects of any size - from a screen repair or gutter cleaning to custom homes and commercial projects totaling millions of dollars in construction volume. Geographically, we service all of Cape Cod and the Islands as well as Plymouth and Bristol County.
capeassociates.com/green/
About LEED® for Homes
LEED® for Homes is a third-party certification system for building and designing high-performance green homes that are energy-and-resource-efficient and healthy for its occupants. Developed and administered by USGBC, LEED for Homes awards points to projects in eight categories of environmental performance. For more information, please visit usgbc.org.
Contacts:
Emile Chin-Dickey
617-720-5002 *101
ZeroEnergy Design
Matthew H. Cole
508-255-1770
Cape Associates
###