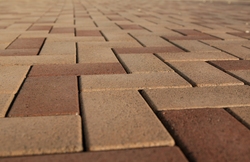 When it comes to companies claiming that their building products are earth-friendly, the proof is in the LEED® credits
Minneapolis, MN (PRWEB) March 19, 2009
VAST Enterprises, LLC, a material science research and manufacturing company, announced that using its composite pavers in construction applications can contribute to six or more LEED® (Leadership in Energy and Environmental Design) credits. VAST produces green building products with its patented technology that transforms post-consumer recycled rubber and plastics into an environmentally friendly material: composite masonry. All VAST products are made from up to 95 percent recycled car tires and plastic containers. VAST composite masonry products include standard landscape pavers, permeable pavers for stormwater management, deck pavers and brick wall fascia. VAST applications include commercial and residential landscaping, residential decking and commercial wall thin brick.
"We recycle an enormous quantity of tires and plastic jugs out of landfills and use our proprietary process to turn them into beautiful, durable, sustainable and affordable alternatives for landscape masonry," said Andy Vander Woude, chief executive officer, VAST Enterprises, LLC. "VAST composite masonry products are cradle-to-cradle green. We use recycled materials. Our manufacturing process has minimal greenhouse gas emissions compared to concrete, produces no volatile organic compounds, yields zero scrap, and creates products that are 100 percent recyclable."
"When it comes to companies claiming that their building products are earth-friendly, the proof is in the LEED® credits," said Troy Achterkirch, vice president, operations and engineering, VAST Enterprises, LLC. "VAST Composite Pavers can contribute to six or more LEED credits -- two to three times more possible credits than any other paver."
VAST can contribute to qualifying for LEED credits in the following sections:
2.1-2 Construction Waste Management (Materials & Resources Credit)
4.1-2 Recycled Content (Materials & Resources Credit)
5.1-2 Regional Materials (Materials & Resources Credit)
6.1-2 Stormwater Design (Sustainable Sites Credit)
7.1 Heat Island Effect (Sustainable Site Credit)
1.1 Innovation in Design (Innovation in Design Process Credit)
VAST Video
"Blueprint for Green" is an exciting television show that takes on the challenges of incorporating green design principles and green construction products in upscale, contemporary building projects. The "Blueprint for Green Goes VAST" episode details the selection and installation of VAST Composite Pavers for a new driveway. The video provides a good introduction to VAST composite masonry.
VAST Enterprises, LLC
VAST applies its patented technology to transform recycled materials into a new resource for green building: composite masonry. VAST composite products -- including landscape pavers, deck pavers and brick wall fascia -- offer an engineered alternative to both segmented concrete and clay. VAST meets the most demanding requirements for aesthetics, durability, sustainability and installation efficiency. Available in standard and permeable versions for stormwater management, VAST pavers contribute to more LEED® credits than any other paver. Today, every 5,000-square foot landscape application keeps 2,500 scrap automobile tires and 75,000 gallon-size plastic containers out of U.S. landfills. Tomorrow? The Future is VAST. Learn more at vastpavers.com. Then call (612) 234-8958.
NOTE: LEED® (Leadership in Energy and Environmental Design) is registered trademark of the U.S. Green Building Council
###