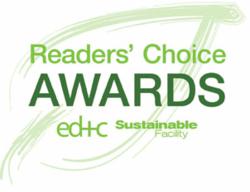 LiveRoof's natural function delivers reliable results with immediate beauty, sustainable growth, and trouble-free maintenance
Spring Lake, Mich. (PRWEB) November 09, 2011
The LiveRoof® Hybrid Green Roof System won a 2011 Readers' Choice Award from Environmental Design + Construction (ED+C) and Sustainable Facility. The publisher and editors of the magazines announced the results of their annual awards competition in October at the Greenbuild Conference and Expo. LiveRoof topped the voting in the Building Envelope category (which includes roofing, window, door, shading, curtain wall, and exterior coating products).
Published by BNP Media, Environmental Design + Construction (ED+C) and Sustainable Facility are dedicated to efficient and sustainable building design, construction and facilities management. The Readers' Choice Awards is the magazines' annual online contest that gives manufacturers the opportunity to showcase the very best in green building technologies, systems and materials. Readers visited the contest web site to cast their votes in nine different categories for the products that offer the best combination of sustainable attributes and ease of use and installation.
"LiveRoof is the only green roof system that earned a Readers' Choice Award this year," said Dave MacKenzie, horticulturalist and president of LiveRoof, LLC. "LiveRoof won because people who know green building understand that all systems are not the same. LiveRoof's natural function as a unified ecosystem delivers reliable results with immediate beauty, sustainable growth, and trouble-free maintenance."
Designed by horticulturalists who understand plants' essential biological requirements, the LiveRoof® Hybrid Green Roof System features the green roof industry's most horticulturally refined modules. Only LiveRoof modules are engineered to establish soil-to-soil contact between and above all modules across the entire rooftop. Plant roots are free to grow from one module to another in a cohesive ecosystem. Licensed regional growers in LiveRoof's national network deliver the system to project sites with modules full of regionally adapted, locally grown plants that are mature, thriving, and ready for the rigors of the rooftop environment.
LiveRoof®, LLC
LiveRoof, LLC (http://www.liveroof.com) is the horticultural science company that developed the LiveRoof® Hybrid System: the only green roof solution installed as a naturally functioning ecosystem with thriving, fully mature plants. Combining the best elements of proven green roof technologies, LiveRoof establishes a seamless vegetative surface rooted in a continuous layer of soil. This design maximizes environmental benefits, energy savings and rooftop aesthetics. Regional growers in its national network adapt LiveRoof plants for local conditions and customize plant selection for every project. LiveRoof's natural function and natural beauty offer the highest level of green roof performance at the lowest level of acquisition-installation-maturation-maintenance costs. The proof is on the roof — showcased in LiveRoof projects that stand out as signature elements on commercial, public, university and school buildings in more than two dozen states and Canada.
###